Interview With Coach Blundo: Preview of the 2021-22 Basketball Season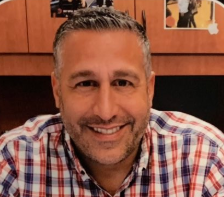 With the 2021-2022 basketball season coming up soon, I had the pleasure to interview Coach Blundo, Head Coach of the New Castle Red Hurricane. Coach Blundo has multiple WPIAL Championships and an undefeated State Championship on his list of accolades. He is one of the best coaches in WPIAL history and he has the statistics to back it up. He will be looking to add another championship to his accolades this season. We wish him the best of luck this basketball Season.
Q: What are you looking forward to this season?
"For the first time in three years, I'll have a veteran team.  We have eight of our top ten guys returning, most of them being juniors and seniors. That level of experience should serve us well."
Q: What do you think the team's hardest challenge will be this year?
"We are the defending WPIAL Champions, with that comes great responsibility. We will have a target on our back every game. Teams are going to want to knock us off and we will be faced with everyone's best effort. We feel that's been the case for the past twelve years, but this year maybe even more."
Q: Who will be your top-performing players this year, with losing a guy like Sheldon Cox?
"We have Michael Wells who is a returning All-State player. We also have Isaiah Boice who is an All-Conference player. We have Micheal Graham who is an All-Conference player and Jonathon Anderson who just recently earned a division 2 scholarship. We also have Cahmari Perkins, Da'Jaun Young, Andrae Jackson, Nick Wallace, and Chris Hood. We are excited about the experience. Those are some experienced basketball players that can and will contribute this year."
Q: What would you teach your players besides basketball? How would you do this?
"You are not going to wake up one day and be whatever it is you want to be. You have to invest, you have to work, and you have to do it with a great purpose, character, and focus. You have to be consistent with those points on a daily basis. If you don't, you certainly can't expect the results you had hoped for, let alone didn't earn."
Q: Before a big game, how do you motivate your players?
"Our players are pretty self-motivated. If they're going to put that jersey on they're going to compete at a high level. They know just how important it is to represent our school and community the right way."
Q: If a player seems like they are in a slump, how would you try to help them get out of the slump?
"We try to put kids in positions to be successful, but we let them know we believe in them or they wouldn't be here. Those things happen in basketball, but our guys find their way out of the slumps."
Q: With all your accolades and rings that you have, how many more years do you plan on coaching or is that still something you haven't thought of yet?
"That's one of those things at the end of each year, you just kind of revisit the season, see how you feel physically, emotionally, and mentally. Then you make a decision for the next season on whether or not you feel you can put in the type of effort that is required for this team, for this program to be successful. As long as I still have the energy and the "want to" and desire to help kids, and as long as I feel that my message is being received the right way by our kids then I will continue to do it."
We want to thank Coach Blundo for an awesome interview. We wish you and the Red Hurricanes good luck in this upcoming basketball season! We look forward to getting our hands on a schedule soon! Go Canes!!