Downtown Ice Rink Closing, So What Else is Available?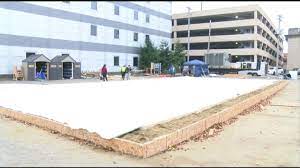 Although the newly opened ice rink in the community opened just a few years ago, the ice skating rink in downtown New Castle will not be opening for the 2021 Christmas season due to COVID-19 restrictions. 
The rink was a great crowd-pleaser in the city of New Castle, attracting nearly 3,000 people last year. It was run by volunteers from the District Attorney's office and the city's police department. It was nicely funded through grant money and public donations. 
Even though this may be bad news to many throughout the community, there are still other opportunities to go out and enjoy the holidays. If you still want to enjoy ice skating, Hess Ice Rink, which is located in Pearson Park, is typically available to those who wish to skate. Even if you're a beginner you can schedule private times. You can even take private lessons. Hess Ice rink will also be hosting a Christmas Ice Show on Saturday, December 11th, from 12:00 to 2:30 pm.
Brady's Run Ice Arena located in Beaver Falls is another great place to enjoy ice skating. The facility is open until April of 2022. Public skating is open from Monday to Saturday each week. For those who wish to make a further trip, the one-million-dollar ice rink surrounding the massive Christmas tree near PPG Place is also open this time of year.  It is another great opportunity for those who want to enjoy one of the many Christmas gems that Pittsburgh contains. 
Check out our other article on the PPG Ice Rink! Thanks for reading Canes!