A Tackle For the Record Books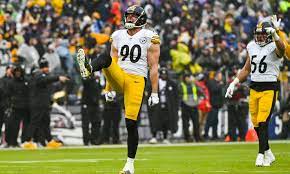 On Sunday afternoon, history was made. 
Outside Linebacker TJ Watt of the Pittsburgh Steelers recorded a single sack against the Ravens in their win over the Baltimore Ravens. Although it may seem like another day on the job, that sack tied former New York Giant and now co-anchor on Good Morning America, Michael Strahan, for the most in one season at 22.5 sacks. 
The record had been held by Strahan since he broke it in 2001 in a Week 17 match against the Green Bay Packers, but some say he should have never gotten it in the first place. The quarterback of the Green Bay Packers at the time, Brett Farve, was good friends with Strahan. 
Late in the fourth quarter, Strahan sacked Brett Farve to achieve 22 sacks in a season. Brett Farve appeared to take a dive in the backfield, which allowed No. 92 to get his 22 and a half-sack of the season, breaking the record. 
It is a mystery that can never be answered as anyone but Farve himself can truly give the explanation to what actually happened, but for now, Steelers nation and TJ himself can celebrate the glory of making history.
Along with tying the record, the Pittsburgh Steelers also made the playoffs in an unprecedented fashion. The Steelers had a mere 6% chance to make the playoffs at the beginning of the 2021 season, and as the weeks until Week 19 began dwindling so did the Steelers' chances. In order to make the playoffs, three key things had to happen.
1st- Steelers had to beat the Baltimore Ravens, which they did in a game that ended in a 40yd Boswell kick in overtime and a 16-13 win. The 2-14 Jacksonville Jaguars also had to beat the Indianapolis Colts, which they did, stunning the world and increasing the odds of Pittsburgh making the playoffs.
The final thing that had to happen was a win from either the Los Angeles Chargers or Las Vegas Raiders in their game Sunday night. Both teams were locked to make the playoffs and could have kneeled every play and still made it, ending in a tie. The teams battled it out, going into overtime with a score of 32-32. When it seemed that the Raiders were not going to be able to kick a field goal, Los Angeles Head Coach Brandon Staley called a timeout, giving the Raiders enough time to drive down the field and make the game-winning field goal. 
The Raiders won the game 35-32, and it seemed that fans from all three teams, the Steelers, Raiders, and Jaguars, were not opponents, but friends that nerve-racking Sunday night.
Look for the NFL Playoff schedule coming soon! The NFL playoffs start Saturday, January 15th.