The 2022 Eye of the Hurricane Mock Draft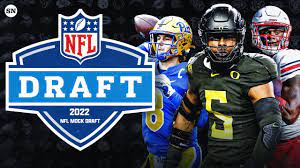 Dom Cade and I are going to tag-team this mock draft.  We each will play gm for all of the teams drafting in the first round.  In order for trades to happen, I will play gm for the Eagles, who own picks 15, and 18.  He will be the gm of the Cheifs and Saints, who each own an even-numbered and an odd-numbered pick.  We will also split being gms of teams not picking in the first round for trade purposes.  This is what we believe could possibly happen, along with our personal favorite players.  I will have odd-numbered picks, and Dom will have the evens.
Jacksonville Jagurs- Aidan Hutchinson, Edge Michigan –

No explanation needed.  The Jags need a franchise cornerstone on defense.  They get a great pass rusher to pair with Josh Allen.  The defense under Doug Pederson should be a lot better, and with Hutchinson gives them a lethal duo.  
Detroit Lions – Travon Walker, defensive linemen, Georgia – 

With Aidan Hutchinson off the board, Travon Walker is the best possible solution. The potential first overall pick will bring a new, young, explosive pash-rushing weapon to the poor Detroit defensive line; which ranked last in the league in scoring defense and had the worst PFF ( overall defensive grade at 44.0. The PFF grade decides takes into account he quality of a play to record a sack as well as beating blocks throughout each play.
Houston Texans- Evan Neal, Offensive Tackle, Alabama-

Yes, the Texans do still have Tunsil on their roster.  However, his contract is expiring after this season.  The Texans could use some help along the offensive line right now as well.  Neal can play either side, and will automatically be a plug and play tackle for the Texans.  Even if the Texans decide to hold on to Tunsil, they have two great tackles for Davis Mills.  
New York Jets – Dereck Stingley, Cornerback, Louisiana

– The New York Jets have lacked success in almost every position on their starting roster: one of he least productive being at the cornerback field. Stingley's talent and competitiveness will pair great with the Jet's 2021 second-round pick of Bryce Hall who only has room to grow from his former rookie year. The young duo could possibly end up giving New York a top cornerback room in the near future.
New York Giants- Kayvon Thibodeux, Edge, Oregon-

Thibodeux is an athletic freak.  He ran a 4.58, and has extremely long arms to pair with his speed.  He has good hands, and good bend to get around tackles.  This is a great pick for the Giants.  They get a huge piece for their defense, and hopeuflly takes some pressure off of their secondary.  
Carolina Panthers –  Ikem Ekwonu, offensive tackle, North Carolina State

– Arguably the top offensive tackle in this years draft, Ikem Ekwonu will be a great addition to the the Carolina Panthers line. The Pather's are in dire need of a quarterback, however it appears that there arn't any worthy of this pick in this years draft that can pan out to have higher success than this shining prospect. Ekwonu will also add morale to the team, as he will be blocking for the Panther's star running back Christian McCaffrey, who will be returning after a recent injury and looking to be on top of the rushing leaders in the 2022 season.
New York Giants- Charles Cross, offensive tackle, Mississippi State-

The Giants have been long linked to Cross.  Cross has great pass blocking skills, and is graded is one of the top pass blockers in the draft.  However, the question comes in the running game.  Cross struggled at the point of attack at Mississippi State.  However, that can be fixed.  The Giants need some help on the opposite side of Andrew Thomas, and they get it with Cross.  
Atlanta Falcons- Malik WIllis, Quarterback, Liberty-

The Falcons have been long linked to a quarterback in their pursuit of Deshaun Watson.  They get their hopeful future QB here in Willis.  Willis runs a 4.5 forty, and has an absolute cannon of an arm.  He has the tools to be a future Josh Allen.  However, he panics under pressure, and doesn't have great QB instincts.  Those can be taught.  A strong arm and speed can't be.  He will also have time to sit under Marcus Mariota.  Good pick for the Falcons.    
Seattle Seahawks – Ahmad Gardner, Cornerback, Cincinnati-

The Seahawks need corners after the position has been completely depleted.  In recent years, they have lost D.J. Reed, Shaquille Griffin, and Richard Sherman.  What was once a position of strength is now one of need.  Gardner is a long, rangy, and athletic corner.  He is an immediate plug and play starter, and will help this defense out a lot.  
 New York Jets – Drake London, Wide Receiver, USC

– After improving the defensive side of the ball with their pick of Dereck Stingley, the Jets will look to better the offensive side with this pick of Drake London. 
 Washington Commanders – Kyle Hamilton safety, Notre Dame
Minnesota Vikings – Trevor Penning, Offensive Tackle, Iowa
Houston Texans – Garrett Wilson, Wide receiver, Ohio State
Baltimore Ravens – Jordan Davis, 
Philadelphia Eagles – Jameson Williams, WR, Alabama
New Orleans Saints – Treylon Burks, WR, Arkansas
LA Chargers- Devontae Wyatt, defensive linemen, Georgia
Philadelphia Eagles – Daxton Hill, CB, Michigan
New Orleans Saints – Chris Olave, Wide Receiver, Ohio State
Pittsburgh Steelers – Kenny Pickett, QB, Pittsburgh
New England Patriots – Andrew Booth Jr., CB, Clemson
Green Bay Packers – Jahan Dotson, Wide Receiver, Penn State
Arizona Cardinals- Kenyon Greene, OG, Texas AM
Dallas Cowboys – Tyler Linderbaum, center, Iowa
Buffalo Bills – Trent McDuffe, CB, Washington
Tenesse Titans – Zion Johnson, offensive linemen, Boston College
Tampa Bay Bucs- Tyler Smith, Tackle, Tulsa
Green Bay Packers – Arnold Ebiketie, edge, Penn Sate
Kansas City Cheifs – Lewis Kline, safety, Georgia
Kansas City Chiefs – Christian Watson, wide reciever, North Dakota State
Cincinati Bengals- Kair Elam, CB, Florida
Detroit Lions – Sam Howell, Quarterback, North Caolina