Inside the mind of Angel Porras, Star New Castle kicker!!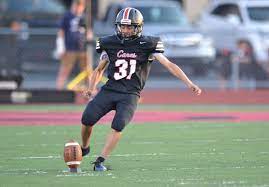 I got to sit down with one of my good friends, also the kicker here at New Castle High School, to interview him about the upcoming football season.
How are you preparing for the upcoming football season?  
I've been trying to keep in shape by playing soccer and staying in the weight room while as well taking a break from kicking but I'm finally back and trying to get back into my rhythm 
As you know, kicking is really important to the game of football. How impactful do you think your hard work will be on the field next season? 
I have just been working hard and when the opportunity comes to me to make an impact in the game, I will give my 100% effort.
Looking forward to next season, who do you think would be the toughest opponents? 
The toughest opponents that we will face this year are definitely the two-state champions Central Valley and Aliquippa however I think our school has a great chance to prove a lot of people wrong about what is New Castle Football
What is your motivation to play for the New Castle Football team? 
My motivation to play for this team is definitely all my teammates and coaches and I try to get better so I won't let them down when they need me most.
Are there any records your looking to break by the end of your highschool career?
I'm really not looking in the future of my high school career right now I just want to get better and enjoy the time you will never get back with your teammates in high school football.
Thank you for your time Angel and good luck to you and the New Castle football team next season!!