NCAA Football Week 11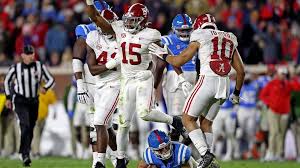 (8) Alabama vs (14) Ole Miss was a very close game. In the first quarter, Ole Miss had a 10-point lead. The first half ended and Ole Miss was looking strong but in the second half Alabama started looking strong in the 4th quarter Zach Evans fumbled and Alabama recovered the fumble and eventually took the lead. Alabama went on to win 30-24. Alabama's quarterback Bryce Young threw for 209 yards and three touchdowns. Young rushed for 10 yards. Running back Jahmyr Gibbs didn't look strong. Gibbs only rushed for 3 yards. Jase McClellan rushed for 84 yards. Ole Miss's quarterback Jaxson Dart threw for 212 yards and one touchdown. Dart rushed for 35 yards.
Arizona upset playoff contender (16) UCLA. Arizona played a strong first half but UCLA tried to come back and tied the game Arizona went on to win 34-28. Arizona's quarterback Jayden De Laura threw for 315 yards and two touchdowns. He rushed for one touchdown. Running back Michael Wiley rushed for 97 yards and one touchdown. UCLA's quarterback Dorian Thompson-Robinson threw for 245 yards and one touchdown. He rushed for 24 yards. Running back Zach Charbonnet rushed for 181 yards and an impressive three touchdowns. This game could have definitely hurt UCLA's playoff chances. 
(13) UNC vs Wake Forest was a close game. Earlier in the season, Wake Forest looked to be a playoff contender but as the season went on they started to lose games. UNC has been great this season with only one loss. UNC won 36-34 after kicking a 33-yard field goal in the 4th quarter. UNC's quarterback Drake Maye threw for 448 yards and three touchdowns. He was the team's leading rusher with 71 yards and one touchdown. Elijah Green rushed for 66 yards and one touchdown. Wake Forest's quarterback Sam Hartman threw for 320 yards and four touchdowns. He rushed for 12 yards. Justice Ellison and Christian Turner rushed for a combined 122 yards and one touchdown by Turner. 
Here are the rest of the scores from Week 11:
East Carolina 25 vs (22) Cincinnati 27
Colorado 17 vs (7) USC 55
(6) LSU 13 vs Arkansas 10 
(18) Notre Dame 35 vs Navy 32
Missouri 24 vs (5) Tennessee 66
Indiana 14 vs (2) Ohio State 56
Louisville 16 vs (9) Clemson 31
Maryland 0 vs (11) Penn State 30
Iowa State 14 vs (24) Oklahoma State 20
Nebraska 3 vs (3) Michigan 34
(17) UCF 38 vs (21) Tulane 31
MS State 19 vs (1) Georgia 45
(15) Washington 37 vs (12) Oregon 34
(19) Kansas State 31 vs Baylor 3
(4) TCU 17 vs Texas 10
Southern Miss 23 vs (23) Coastal 26 
(20) Florida State 38 vs Syracuse 3
California 10 vs (25) Oregon State 38
Stanford 7 vs (10) Utah 42