Legends Lost: Lil Peep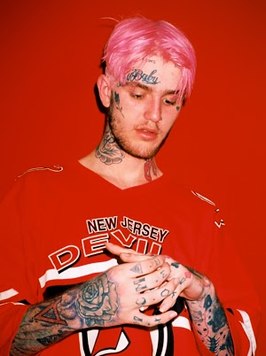 Tommy Martino, Senior Entertainment Writer
December 17, 2018
Gustav Åhr , better known by his stage name Lil Peep was born November 1, 1996 in Allentown, Pennsylvania. Gustav went to Long Beach High School but rarely attended despite making the deans list for the time he attended. Peep later dropped out of school and did an online program that only required one essay a week to get his diploma. When Peep was seventeen he moved to Los Angeles. He stated the reason he moved was because he was depressed living in Long Island.
On September 18, 2015 Lil Peep released his first mixtape, gaining over 4,000 streams during its first week on SoundCloud. The success of his Soundcloud led to him beginning to gain a fanbase and recognition from other rappers. After noticing the sudden success of his first mixtape, Peep released Live Forever a few months later, featuring collaborations with Yung Goth and Lil Skil. On June 11, 2016, Lil Peep released his mixtape "Crybaby." Crybaby had features from Lil Tracy, Cold Hart, and Wicca Phase Springs Eternal, all members of the group GothBoiClique. The themes in the mixtape were heartbreak, substance abuse, and depression. Peep sampled bands such as Oasis, Brand New, and Real Friends.
On September 25, 2016, Peep joined the group GothBoiClique. GothBoiClique consisted of  Cold Hart, DØVES, Horsehead, JPDREAMTHUG, Mackned, Official, Lil Tracy, Wicca Phase, and Yawns. The day he established his relationship with GothBoiClique was the same day he released his "Hellboy" mixtape.
On August 15, 2017, Peep released his debut album "Come Over When You're Sober Pt.1." This gave Peep his first opportunity to record in a studio and was the first time he collaborated outside of his immediate circle. He began working with Rob Cavallo and eventually, Astasio, a member of the Invisible Men songwriting and production trio. Peep used to record on his microphone at home as well as at the studio, the $800 microphone being bought with his own money. Following the release of Come Over When You're Sober Pt. 1, the album debuted in only one country, the Czech Republic on August 22, 2017. Following Lil Peep's death, Come Over When You're Sober, Pt. 1 entered the Billboard at #168 and sold 16,000 album-equivalent units the following week, peaking at #38
Sadly on November 15, 2017 Lil Peep died at the age of 21 of an accidental overdose in Tucson, Arizona while on tour for his album Come Over When You're Sober Pt 1.Following Lil Peep's death, his label and family began to back up his Macbook Pro laptop which included recordings from the Come Over When You're Sober sessions. The project was first backed up in the headquarters of First Access Entertainment in London before his secondary laptop being backed up in an Apple store by his mother Liza Womack.  His producer Dylan Mullen revealed that Peep had made several unreleased songs, ones specifically made for a possible sequel to his debut album Come Over When You're Sober Pt. 1. In a tweet shortly after Peep's death, Dylan tweeted that he and Peep made "beautiful music" during 2017 and that he still has unreleased music from him. On February 2018, Dylan tweeted a confirmation that the album is coming, but would be released when the "time is right". The release date was later confirmed to be November 9, 2018.