Minenok Maintains Optimism Despite Adversity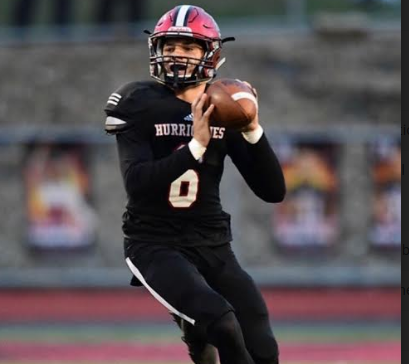 The vast majority of athletes are ready to return to full practice and competition as soon as they are medically cleared by the team physician or sports medicine staff. Once athletes are cleared physically, most of them have no problem re-entering the routine. However, some athletes may be ready physically but are not prepared mentally to return. The Eye of the Hurricane had the opportunity to talk to Senior student Daniel Minenok. He has plans on going to Youngstown State University to major in chemical engineering. Daniel dislocated his ankle during a basketball game when he was in 10th grade, he needed to go through two surgeries and therapy to recovery. Daniel shares his journey of how he's still recovering from his injury
Why did you decide to play football?
Growing up my dad played football in college, and he has been coaching for a while now. My older brother played football so we're like a football family, that's what I was introduced to football, basketball, and sports.
How long have you played football?
My first year playing football was in 3rd grade, but my first game as a water boy was in kindergarten, and I haven't missed a varsity football game since.
What is your personal goal for this sport?
My life long dream of growing up as a kid is always been to play division one football. Next year I'm going to try to walk to Youngstown State and it'll hopefully become a reality.
What has been the biggest challenge you needed to face in this sport?
Two days before the state quarterfinals in basketball of my 10th-grade year, I came down in my teammate's foot and severely dislocated my ankle. I needed to have two surgeries to help stabilize it, but there was a medical mistake, they missed a fraction on one of my x-rays and I went a year going through therapy and trying to train. I was in pain, they couldn't figure out why so I had to have another surgery a year later to repair a broken bone I had on my foot, and that's why I am now recovering from that to get back to my sport.
How was the process of recovery like?
Originally, after the first procedure they inserted pins into my foot to stabilize my ankle so I was in a cast for a while, then after they took the pins out I was in a boot then it was a gradual process. I had my ups and downs. When I felt that I was not going to be able to play again, my family said that it was going to be a long process, and the only thing I could do was to be patient. My family was very supportive throughout this journey.
What was the hardest of being injured?
Just not being able to do what I love, just not being able to play football or basketball because those are my two favorite things to do, as well a being able to train and compete.
How do you encourage yourself to stay motivated?
Keeping my eyes on my dream and not giving up on my goal of playing college football. Just knowing that I have a little brother and a little sister who also play sports, I just want to be a good role model for them. If you believe in something and if you want to accomplish your goals, don't let any obstacles or setbacks get in your way. Don't let your set back define you, let your response to that set back be what defines you.
If you could play for any pro team, who would you play for?
The Cleveland browns because my dad's side of the family is from Youngstown. My brother plays football for Youngstown State, so I would play for them because I have family roots there.