Andrew Luck's "Surprising" Retirement Fall Preview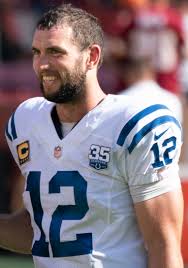 Joshua Hoerner, Sports Writer
September 13, 2019
Hang on for a minute...we're trying to find some more stories you might like.
Andrew Luck has recently given up on the game of football.  Luck, the first pick of the 2012 draft, was picked by the Indianoplis Colts.  Luck threw over 23,000 passing yards, 171 touchdowns, and had a 60 percent completion percentage.  In addition, he was a four time pro bowler, and has led the Colts to the AFC chapionship game.  Luck is from Washington D.C., and attended college at Stanford. 
Luck's retirement came as a shock, as he was only 29 years old.  Luck's cause of retirement were persistent injuries.  Luck suffered both from calf and shoulder injuries.  The Colts will now start Jacoby Brissett at Quaretback.  Brisses led them to a 5-11 season in 2017 while Luck was out due to injuries.  The Colts were highly favored to reach their full potiential this year and were the favorite to win the division. The Colts were coming  of 10-6 finish in the regular season, and a playoff win at Houston.  The unexpected announcement of retirement  by Luck in the middle of the Colts preseason game led to disbelief and boos from the hometown fans.