A Flag Line Star
At New Castle Sr/Jr High we have many extracurricular activities like football, band, cheer, etc. I recently interviewed 10th grader Katelynn DeBourelando on her experience with Flag Line. Here's what she had to say:
How long have you been on the team?
Katelynn: "2 years."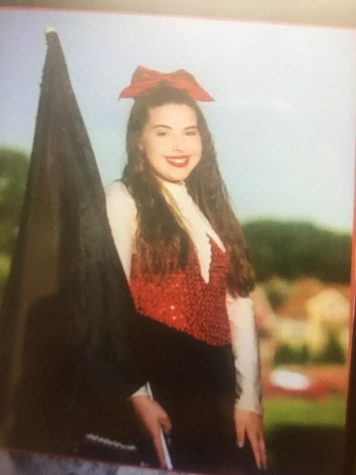 What made you want to try out?
Katelynn: "I wanted to try something new this year, so when I saw the flyers around the school I figured why not."
Do you ever get nervous about performing in front of the huge crowds?
Katelynn: "Yes, all the time because when I'm on the field time goes so fast and when we get done I can barely remember what I did. I Just hope I didn't mess up.
How do you mentally prepare yourself?
Katelynn: "Before we go onto the field, the whole team says a saying and I just take deep breaths."
What do you love most about the team?
Katelynn: "All the bonds that I've formed with the girls that I thought I would've never had."
How is last year's experience different from this year?
Katelynn: "Last year I didn't know what to expect because it was my first year, but this year I'm more comfortable with the team and I know what I'm doing and what to expect."
Would you recommend trying out to anyone who's interested? Why or why not?
Katelynn: "Yes, because its a great way to meet new people and make friends. If I wasn't on the team, then I probably wouldn't have talked to some of the girls."
Katelynn plans to do Flag Line until she graduates and hopes many people try out and join the team. She's happy that she decided to try out and do something new.