Anthony Miller A Bright Future On and Off the Field

I recently had the opportunity to interview Anthony Miller.  Anthony is a freshman at New Castle Senior High School.  Miller is both a baseball and basketball player.   During the summer, Anthony played for Youngstown, Ohio in the Pony League World Series.  Due to Anthony's contribution, the Youngstown Ohio team made it to the semifinals. This is quite an accomplishment given that teams participate from all over the world. I hope you enjoy this interview. -Josh
Q: How was your experience at Washington?
A: Incredible, the atmosphere and the opportunity to play teams from other countries are out of this world.
Q: Do you still keep in touch with the players from this summer's  Pony team?
A: Yes, they are all like brothers to me.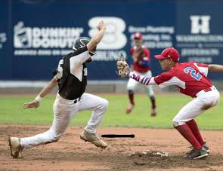 Q: What's encompasses your training?
A: Monday through Friday is a lot of lifting and a lot of cardio, and probably Tuesday and Thursday I hit batting practice.
Q: Who's influenced you the most so far?
A: My parents are a huge inspiration.  The way they push me to be better every day, and the amount of faith they put in me to pursue my dreams.
Q: Who's your favorite baseball player and why?
A: Albert Pujols, because he is a great person off the field and an even better person on the field.
Q: Do you have a personal trainer
A: Jeff Smiley has really helped me change my body for the last 7 years.
Q: In your opinion, how would you define a student-athlete?
A: Somebody who puts school ahead first, and make school their number one priority because exceeding in the classroom is more important than exceeding on the field, after they focus on their school work, athletics takes part in their day.  But, grades better most.
Q: You have played at a lot of great places and facilities, but what is your favorite?
A: Cooperstown, New York.  It carries the history of baseball.  (Home of the baseball Hall of Fame).
Q: Did you feel any extra pressure playing on television?
A: Yes, the spotlight was incredible, and knowing that everyone back was watching me gave me butterflies.
Q: After the national attention, what kind of feedback did you receive from the community?
A: Very supportive, definitely made everyone proud, and I was just happy to represent New Castle.
Q: What are your expectations for the team and yourself this year?
A: I believe we are going to win a lot of games, and ultimately a WPIAL ring, and a state championship.  Personally, my goal is to start as a varsity freshman and contribute to the team as much as possible.
Q: In life, what is your biggest strength/weakness?
A: My biggest strength is being able to communicate with people.  My biggest weakness is I am a big procrastinator.
Q: How do you overcome your weakness?
A: Make a planner, and become organized.
Q: Favorite pre-game snack?
A: Pepperoni Roll.
Q: How do you hydrate during games?
A: Blue Powerade, every game.
Q: How do you decompress after a hard day of work?
A: Ice first, and then a hot bath after.
Q: For the record,  what's your favorite restaurant in New Castle?
A: Mary's for sure.  I enjoy Lebanese food a lot.
We wish Anthony the best of luck this school year, and in all his priorities.