The Red Hurricane Way: Daniel Minenok's Exclusive Interview with Coach Blundo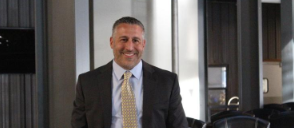 Fresh off of a third consecutive WPIAL championship with hoops season right around the corner, I had the privilege of sitting down with head boys' basketball coach Ralph Blundo to gain some insight on his coaching philosophy.
Question: Why do you coach?
Coach Blundo: For me, in terms of helping kids, coaching is the most intimate setting you can get. It's more intimate than a classroom, it's more intimate than from a principal's chair. It's you an eighteen kids in a gym and the parameters are different, and the way you can address them to get the very most out of them is a bit different. When you're teaching and eighteen kids are staring a hole through you, you know they're listening. I don't think you can get that in any other venue. Coaching is different that way.
Q: What defines your team's style of play?
Coach: Hard-nosed, tough, we call it "the Red Hurricane way." There's an energy level that we consider to be uncommon when we compare ourselves to other teams. Our effort is uncommon, and our willingness to do things together is uncommon.
Q: What's your main goal for the New Castle basketball program?
Coach: Our main goal every year is for each one of our kids meet his potential and that our team meets its potential. For us, that's winning. We want to be as good as we can be as a group, we want to be as good as we can be as individuals, we want to be as good as we can be in the classroom. Meeting our potential is the objective, and that means a championship, then that means a championship, or maybe some years we're not as talented and that means making it two, three games into the playoffs. But whatever our potential is, that's what we're looking to achieve; we want to be as good as we can be.
Q: How do you communicate to your players and ensure that you get your message across to them?
Coach: I think you have to drive points home. I think there are certain messages that require a different tone or a different level of intensity, and the players get to know their coach over time. They can figure out when he's really trying to drive a point home. I'm always communicating with my players: on the floor, off the floor, through text; we're always communicating.
Q: What are some of the characteristics you looked for while building your coaching staff?
Coach: First, I wanted good human beings; I wanted the best people I could find. After that, I wanted guys who really cared about kids. And third, I wanted guys who knew basketball. I happen to be fortunate enough to get the entire package where I got great mentors, great human beings who love kids and know basketball.
Q: Can you give us some insight on your offensive and defensive strategies?
Coach: We want to play fast. We want to use our gifts, our athletic ability, and we want to get the ball up and down the court as fast as we can and increase the amount of possessions on both ends. We think that's an advantage for us. We want to force teams to play faster than they want to play through our pressure defense and early offense. We also have the capability of playing any style, but we certainly prefer a fast-paced style.
Q: If someone were to walk into the field house during a practice, what would they see?
Coach: They would see a business-like approach: coaches coaching, players learning, players listening, players looking coaches in the eye, and players adjusting to the coaching. They would see an organized, fast-paced practice with very little down time and real work.
Q: What makes a practice effective? How do you know when you can leave practice and think, "We got better today?"
Coach: Practice has to be purposeful. I think one mistake that coaches make is that sometimes they work on things that don't relate to game situations; so we want our practices to be authentic, we want them to be purposeful, we want to be working on things that are going to relate to what we do, and then at the end of practice, typically, if the effort is good and we control the controllables, then everything else in terms of, "Did we get better?" falls into place.
Q: How do ensure that your players display a postive image of the team on and off the court?
Coach: I'll take (the privilege) away from them. I think that's the one thing students understand: if you love something and you have who's willing to take it away from you because they have to in order to teach you a lesson, then you won't make that mistake, or you'll make a better decision when you're maybe thinking about making the wrong decision.
Q: You spend a lot of time with your team, whether it be watching film, practicing, or even spending time with them outside of practice. How do you manage your time between coaching, being a principal, and your family?
Coach: I think it's something you have to work on. You have to know yourself and know when you lose your balance a little bit, or when your focus is too much on your team and not enough on your family, or vice versa. I think it's all about balance and understanding where you operate best as a person. When I get out of balance, I know it right away, and I'm able to redirect myself right away, and redirect my focus to where it needs to be.
Q: You're very involved in the development of our community's youth, hosting the summer basketball camp, Saturday clinics during the winter, and tournaments nearly every weekend throughout the basketball season. What's your philosophy on building a strong foundation for the youth?
Coach: I try to build it through basketball, and it's one of those things where I look back and see how impactful it was on my life and I try to pass that along to the young people in this community. I think that our success has helped that because basketball is well and alive in this community right now, and that's what we wanted more than anything; we wanted it to run really deep into their homes, and kids want to do it, not just to build a successful basketball program because I know what basketball and the lessons I've learned in basketball did for me. And I think we can use that tool within the young people of our community to help them do the same.
Q: What's the main thing you want your players to take away from playing in your program?
Coach: The lessons that they learn will carry on for the rest of their lives. That's what I want more than anything, that they learn that "If I work really hard, and I care about other people, and I make the little things important to me, then I can be successful. If I work extraordinarily hard, then I can be successful in anything that I do."
Stay tuned this basketball season to see if Coach Blundo's meticulous, hard-working approach will lead the Runnin' Red Hurricanes to a historic season, becoming the first District 7 school to ever win four consecutive WPIAL championships! GO CANES!
About the Contributor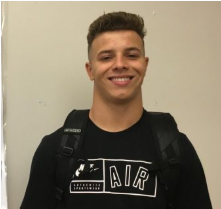 Daniel Minenok, Senior Editor
Daniel has had an important part of the Eye of the Hurricane staff for the past four years.