The G.O.A.T. Bill Russell Boston Celtics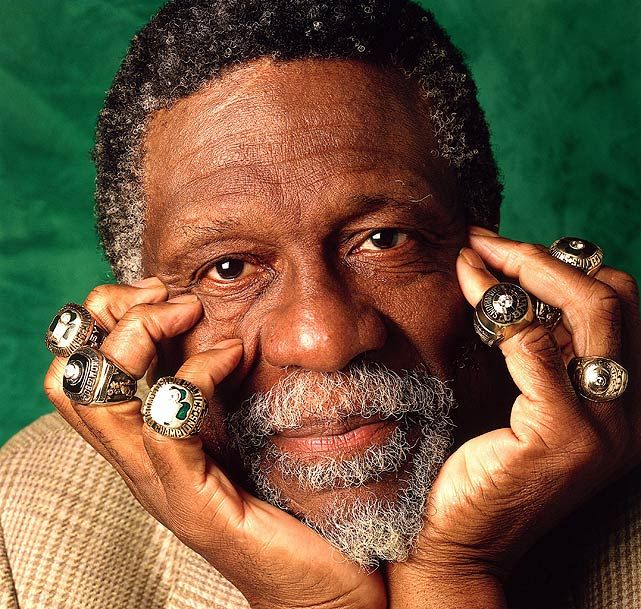 The 6 ft 9 in, 215 lb NBA all-star Bill Russell was a player and coach for the Boston Celtics for three seasons between the years of 1956 – 1969. Russell attended MyClymonds High School in Oakland, California. Russell began his college career at the University of San Francisco, Russell led the University of San Francisco to consecutive NCAA titles before starting his pro career with the Boston Celtics in 1956. Russell was named the Most Outstanding Player of 1955 NCAA tournament and then reeled in the National Player of the Year award in 1956. During his college career, Russell averaged 20.7 points per game and 20.3 rebounds per game.
Russell later was drafted by the Boston Celtics as the No. 2 pick of the 1956 NBA Draft, on April 29, 1956, in exchange for Ed Macauley and the draft rights to Cliff Hagan. Russell started with the Boston Celtics at a salary of $19,500.  Russell wore jersey number 6. Celtics center Arnie Risen, whom Russell replaced, graciously assisted the rookie in mastering the finesse of professional basketball. In 1957-59 Russell played in the NBA all-star game.
Most people consider Bill Russell underrated compared to other NBA Legends, but don't know how much championships he has won. In fact, Bill Russell has a Record-setting number of championships won. Russell's first championship win was in the 1957 – 58 season. The Celtics won fourteen straight games and continued to succeed. Russell averaged 16.6 points per game and a league-record average of 22.7 rebounds per game. Russell set a Finals record with 29.5 (rebounds per game) in series and helped launch the greatest championship run in the history of professional sports. Russell's 1959 title began an unprecedented and unequaled string of eight consecutive NBA championships, 1959-1966. Ever since Russell was drafted in 1956, the Boston Celtics dominated as Russell had a total of 21,620 total rebounds if you count total games played in the regular season. Russell leads the NBA in 11 Championships! Russell later retired from the Boston Celtics 1969.
Bill Russell didn't only participate in the NBA, on April 16, 1966,  Russell agreed to become head coach of the Boston Celtics. Russell's coaching career was from 1966-1988.  During this time he led the Boston Celtics to astonishing seasonings and championships! Russell was then a player-coach for three seasons, 1966-1969. Russell was also the first African American coach in North American professional sports also first to win to win a championship. Barack Obama awarded Russell the Presidential Medal of Freedom for his accomplishments on the court and in the Civil Rights movement.
Russell was inducted to the NBA Hall of fame in 1975. Russell finally accepted his Basketball Hall of Fame ring! Bill announced, "In a private ceremony w/my wife & close friends". Russell later stated "I refused to be the first black player to go into the @Hoophall I felt others before me should have that honor",- a very humble statement from Russell.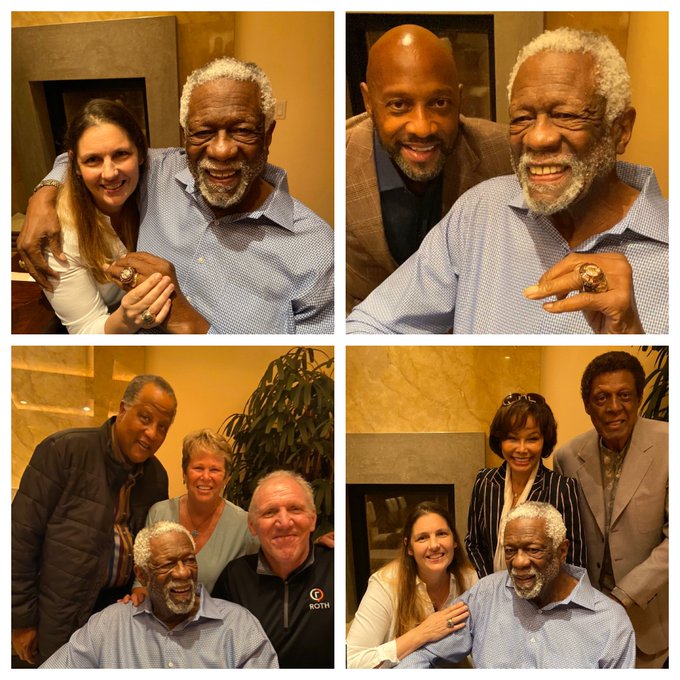 Since retirement, Russell also has written an abundance number of best-selling books! "How'd That Foot Get in My Mouth" Reflections of a Life-Long Flibbertigibbet, "The Next Right Thing", "Red and Me: My Coach, and My Lifelong Friend".   Red and Me, as well as the aforementioned books, are also available on audio-cd.
I hope this brought out the intelligence and greatness of Bill Russell.  Without a doubt Russell is a very underrated legend in basketball history. -Having the most NBA championships, as well as, his game play makes  Russell  the perennial  "GOAT".