Interview with Senior Isaac King
Being a student-athlete is one of the hardest things there is to do. You find yourself having to make two full-time commitments, one to your professors who expects you to fully commit yourself to the classroom and one to your coach who expects you to fully commit yourself to your sport. There is no remorse in the life of a student-athlete, neither professor nor coach cares if you're too tired trying to balance the two in your life. If you spent all night studying for a class your coach is not going to let you sleep in and if you spent all day working on your sport your professor won't give you any slack. Aside from being a tough life to live there are many benefits to being a high school student-athlete as well. Sports teach lifelong skills that have extreme value and cannot be learned outside of sports. Being a student-athlete means much more than what it's shown to be, you learn critical life lessons through your sport, you learn to deal with stress on a different level and you become bonded to your team like a family. Senior student Isaac King has demonstrated through his work ethic that dedication is the key to success both in the classroom and sports. He has additionally shown his ability to manage his time wisely both in the classroom and in his sport, proving that there are no excuses if you want to achieve your goals.
For how long have you been part of the cross country and track team?
I've been part of the cross country team for six years. I couldn't participate in my 9th and 10th-grade year because of a foot injury, but I was really happy to get back to run on my 12th-grade year. I was part of the track team for only about two years, one year during junior high and I started running track again last year, and this is going to be my 3rd year participating.
Of all your teammates, from whom have you learned the most?
I've learned the most from Ryan Hunyadi. He's the most influential person. He has always shown dedication to creating a championship team. And he always makes sure that you knew that he would have your back at all times.
Which of the running seasons do you enjoy the most?
The last two running seasons would be my two favorites. The last one was the best for me because I had a really good friendship with all of my teammates. It was always a fun time, we were always laughing and making jokes, it was just such a good area to be around, and I was always looked forward to going to practice every day.
Do you have any pre-meet rituals?
Before every race, we do our normal warm-up, but probably the most thing that stands out between us and other teams is that we like to recollect ourselves to pray before every race to make sure that our team and all of our other teammates are safe throughout the race and that no one gets injured, and the race goes smoothly.
What is the strangest thing that you have seen happen during a race?
I've seen someone jump off a tree and exceed the next person behind that was probably one of the strangest I've ever seen.
What is the greatest piece of advice you've ever revived in the sport?
One of the most helpful information is never giving up, pacing yourself, and giving that dedication to your teammates and family. Dedication is the more influential thing I've learned throughout this sport.
Who are your role models both in and out of the sport?
Ryan Hunyadi, he's never scared to be himself, he's a funny guy, he always does the right thing, he always knows what to do. Outside of the sport, my dad served in the U.S. military, he was a marine. Once I understood what he did I've always wanted to follow in his footsteps that's why I listed in the marines myself today.
If your teammates gave you a superlative, what would it be?
They probably view me as the quiet one, because I'm always quiet during practices and races.
What is your major and dream job?
I'm going to program jets and helicopters positional systems in their weapons programming. My dream job is to be part of the special forces for the military, specifically the marines.
What's your favorite subject?
I like science, of all of the science it would be chemistry. I had a lot of fun in that class.
Who's your favorite teacher? 
Mr. Mantinaous, he's one of the best teachers I've ever had. He always finds a way to explain to us. He always makes sure you understand what you're doing, and he cares about you.
What's your advice for upcoming high school student-athletes?
The advice that I would give to upcoming students is to never give up, but that hard work in because it doesn't matter how hot, how cold, how muddy, how rainy, how snowy, how dry, how humid it is out there. Everyone is going to run in the same conditions, and your team is not going to give up on you, so don't give up on them.
About the Writer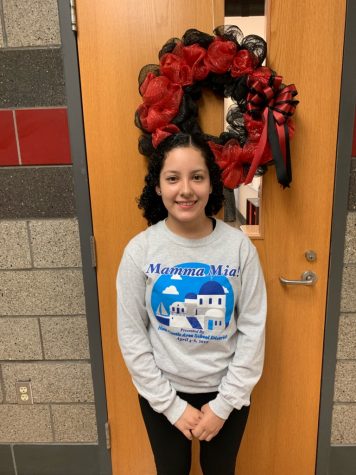 Maria Vasquez, Senior Editor
Maria Vasquez is a Senior Editor of Feature Stories. This is her first year in the Eye of the Hurricane. She's a member of the National Honor Society &...