Interview of Ryan Hunyadi on His High School Experience/Senior Edition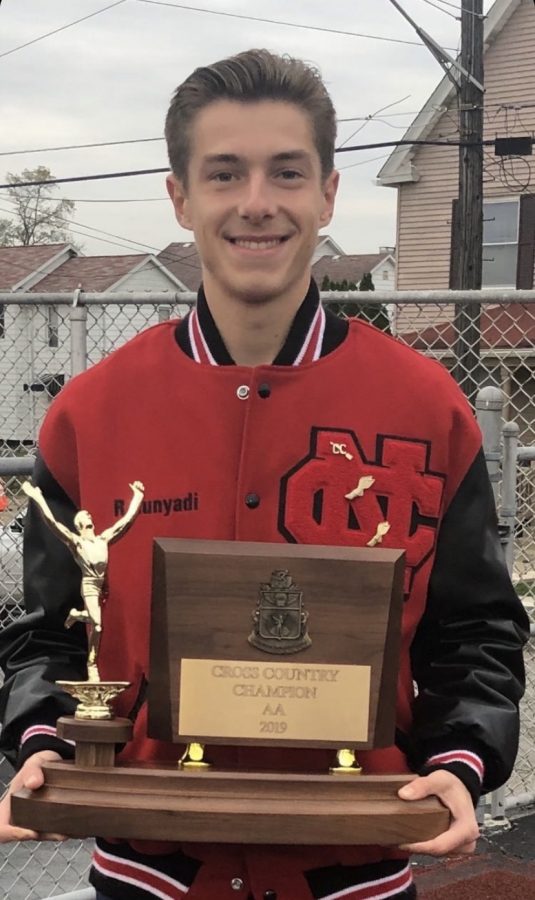 Sarah Hunyadi, Feature Writer
May 20, 2020
In this Senior Edition of The Eye of the Hurricane, I had the opportunity to interview Ryan Hunyadi on his experience throughout his high school years.
Question: What sports did you play?
Hunyadi: I ran cross country (NCXC) for the New Castle High School boys varsity team. I also ran for the Track and Field team.
Question: What were your overall accomplishments in those sports?
Hunyadi: For cross country, I've consistently been the four man this past season. Over the course of my high school career, since I was a Freshman during the 2016 season, I've never lost a section meet. Our team has won the Midwestern Athletic Conference (MAC) meet every year since 2017. Above all, this year we won the WPIAL meet, the first time in 71 years! For my 5k time, I'd say my personal record (pr)  is around 16:50. As for track, my pr in the mile is a 4:47.
Question: What is your personal record in the two-mile for track?
Hunyadi: My pr for the two-mile is 10:29.41. It was set at the MAC meet at Mars High School in April of 2019.
Question: How long have you been running for the NCXC Team?
Hunyadi: I started running for the New Castle Running Club when I was in 4th grade back in the Fall of 2011. I stuck with it and kept running through Junior High School, eventually making may way to the top seven on the varsity team my Junior year of high school. So overall, every year in high school and nine years total.
Question: Are you planning on going off to college? If not.. then what?
Hunyadi: Yes, I'm planning on going off to college.
Question: What college are you attending?
Hunyadi: I'm attending Youngstown State University in the Fall.
Question: What profession would you like to take on in the future?
Hunyadi: I'm looking to major in Pulmonology (Respiratory Therapy) or some other healthcare field.
Question: If you could go back to any grade, what grade would it be? Why?
Hunyadi:  If I could, I'd go back to 10th grade. Although the work was challenging at times, it was my breakthrough year for cross country and track, where I really started excelling. There were also a lot of great Juniors and Seniors that I became friends with and looked up to.
Question: In your own words, what is senioritis in  your opinion?
Hunyadi: Senioritis is a unique concept. It's basically a mindset where you begin to get tired of high school, and start giving up and looking toward graduation months ahead of time. Personally, I never got senioritis. I think its because cross country taught me to always be a hard-worker and to stay disciplined.
Question: Do you think high school prepares you correctly for college? Why?
Hunyadi: It's a very subjective topic, but I think it does. However, the most important thing is for students to always try their best and to take as many Honors and AP classes as they can handle. The work might get tough at times, but the teachers are fantastic, and they prepare you even more for college.
Question: Who is your favorite high school teacher?
Hunyadi: This is a tough one! I'd have to say Mr. Dado, since I've had him every year since eighth grade. And an honorable mention to Mr. Zidow, the best substitute teacher of all time!
Question: Which grade of high school was the most challenging for you? Why?
Hunyadi: In my opinion, Junior year was the hardest. Towards the end of the year the work started to ramp up. I did take a lot Honors and AP classes, but they were worth it!
Question: What do enjoy doing in your free time?
Hunyadi: I enjoy running and working out to stay in shape. I also enjoy hanging out and playing Basketball with my friends on the North Hill. I play video games with my good friends as well. I also love watching sports on TV, like basketball and soccer. I'm a big fan of the English Premier League, the German Bundesliga, and the European Champions League.
Question: What advice would you give to underclassmen?
Hunyadi: Great question! I would say the biggest thing is to always push yourself with school work and always try your best! Make lots of friends and be respectful and outgoing with teachers, as it makes high school a little easier and more enjoyable. Try a new sport, you never know what you're good at until you give it a try!  High school goes too fast, have fun, make good decisions, and stay positive!
"Enjoy the ride, but try not to fall off" -Ryan Hunyadi (Class of 2020)