A MESSAGE TO THE FLAG LINE SENIORS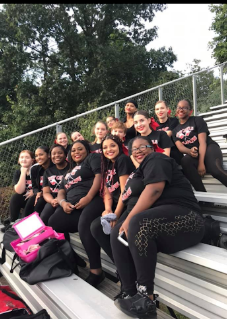 To the Flagline Seniors:
When I started Flag Line two years ago I was terrified about if I was going to like it. When I found out I made the team it all started. One practice at a time I got used to the girls and exactly how the practices would go. The team and the bond is something I noticed right away and is something I am so thankful for. That year I did not only become close with the girls in my grade but also the ones that were juniors that year. That season is one I will always remember not only because of the games but because of the amazing memories made with that team. The next year came around and I felt comfortable with the girls after spending all last season with them. After figuring out I made the team I was ready to start the season. The seniors are some of the sweetest girls I have ever met and every single practice was so much fun and we would always laugh about something. The games were amazing and I will cherish them forever. The bus rides we would blast music on the way to the fields and we would all sing all the words together or dance like crazy people trying to learn new tik toks. The seniors made this season one to remember and on senior night, we did not know how to feel that our last time preforming with those seniors at our home field was happening right before our eyes. We always knew that it was going to come but seeing the people who helped me fall in love with flag line leaving and preforming for the last time was something very hard to do. The things that that group of girls would have done for each other is something so special that I will always have so much love for. But it is happening they are moving on to do amazing things in the world they are going to college and starting a career for themselves that will last them a lifetime. No matter what they will always have a home as former members of New Caste Flag Line and I am so grateful for that. You guys will all do amazing things that I am so excited to witness as we all get older. Keep on growing in the amazing ways you all have always done. You are amazing.