Summer with Coronavirus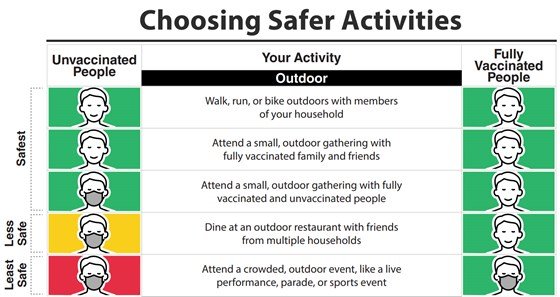 With summer only one month away, some people could still be anxious about it being ruined by coronavirus.
The vaccine is now available to anyone ages 12 and older. New CDC guidelines say that people who are fully vaccinated can gather without masks. It is highly recommended that everyone gets vaccinated when they have the chance, so things can return to normal.
For people who are under age 12, or do not have access to the vaccine, this summer could be somewhat restricted. While it is not recommended you are without masks around other people, you could safely be around close family or one friend. There are still many fun, outdoor activities that you and your family or friends can do safely socially distanced. Having a picnic spread out outside, or even a bonfire at night would be fun.
Virtual activities are a good idea too! You can set up a Zoom or FaceTime call with your friends. You and your friends or family can exercise outside- either walking, running or even riding bikes together.
Since activities are restricted, this summer would be a good time to start something new. Maybe you could start a new book, start a new home project, plant a new garden, reorganize your room, or watch movies you've never gotten a chance to watch.
It is important for people to finally have fun this summer since we have been stuck at home all year, but it is crucial that people still stay safe and follow the guidelines.