2021 MLB Draft: Prospects to Watch as The Pirates Pick 1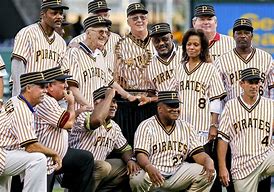 The Pittsburgh Pirates have the number 1 pick in the MLB Draft in the upcoming draft. Last year, the Pirates selected New Mexico State second basemen Nick Gonzales, whom they didn't believe would be there with their pick. This year's draft is one of the most interesting in a while, as many of the high school prospects didn't get a chance to play their junior year. With the Pirates in clear rebuild mode, this pick is crucial for the organization. This pick is their future star, and could be the future of the franchise. Let's look at a few players who should be in consideration with the first pick.
Jordan Lawlar SS Jesuit Prep- If you want a 5 tool player, Lawlar is your guy. He can almost do anything you need him to. He draws comparisons to Bobby Witt Jr., whom the Royals drafted number 2 overall the year before. Now, I understand the crowding of the middle infield in the Pirates Minor League system. Players such as Gonzales and Oneil Cruz are already promising young middle infielders in the system. However, Lawlar in my opinion, is the number 1 player in this draft. This player has the highest ceiling of any player in this draft. If he plays out to his potential, he is almost a carbon copy of Francisco Lindor. If he reaches his potential, he is a clear MVP candidate in the MLB.
Jack Leiter RHP Vanderbilt- Leiter has a great fastball, which can sometimes come up to 97 MPH. He has good off-speed pitch variety, which features his curveball, slider, and changeup. He also has very good command.  Pirates have coveted right handers who throw hard, with guys such as Gerrit Cole, Mitch Keller, and Tyler Glasnow who have rose through the organization. Leading the Vanderbilt staff right now, Leiter has always been in the mix for this pick. I see an accurate comparison for him as Sonny Gray.
Kumar Rocker- RHP Vanderbilt- Rocker and Leiter are both leading the Vanderbilt staff, and both have a chance to be picked number one overall come July 11th. Rocker throws a little bit harder than Leiter, which can hit 99 MPH sometimes. Rocker also has about 3 inches of height on Leiter, and just like Leiter, features a slider, curveball, and changeup. His ceiling is higher than Leiter's, but he also has more bust potential. I see him as a Gerrit Cole type of pitcher if he reaches his potential, and if not, a solid bullpen piece.
Henry Davis- Catcher Louisville- Davis has had a great season for the Cardinals. His bat has looked very good in a season in which college bats are struggling. Solid power and an all around good hitter makes his ceiling very high. His best feature is his plus arm, in which he gunned out 34 percent of guys stealing at Louisville. He really has been coming on strong as of late, and could be in the mix for this pick. My comparison for him is Will Smith.
Marcelo Mayer- SS Eastlake CA- Mayer has been coming on strong as of late, and even took the number 1 spot on MLB Pipeline earlier. Mayer is another 5 tool shortstop prospect. He has a great feel from the left side of the plate, and has good size at 6'3. Great hands and footwork make scouts think he will be able to be stout defensively for years. He also has good raw power which he can grow into at the Major League level. His best feature is his arm, which is graded one of the highest of all his tools. I see him as a Corey Seager type player, with good raw power, and a smooth swing.
Any of these players would be a good pick for the Pirates. With the first pick and the franchise depending on it, the Pirates need to draft the best player for their organization.