That Male Candy Cane You've Been Wondering About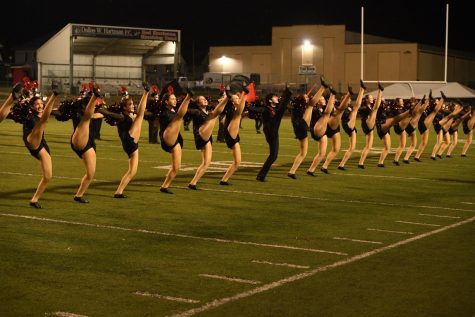 When someone mentions Candy Canes, you tend to think of the ones you get at Christmas in your stocking. However, for us here at New Castle High School, we think of our high kicking Candy Canes Dance line. Every week they perform under the Friday night lights in a high-energy halftime show. Two years ago, Emmanuel Gingras tried out for the Candy Canes and became one of the first male Candy Canes to join the dance line. 
"There I was, sitting on stage for Hello, Dolly! practice when Taylor Anderson and Amelia Pope were talking about Candy Canes sign-ups. Taylor looked at me and said I should sign up (as if it were a dare), so I did." stated Gingras.
Previously, Emmanuel had been in the marching band and made the switch to dance line in his Junior year. 
"Being a Candy Cane was nice though because I could still dance and march in the band. Call me Miley, because I got the best of both worlds."
Gingras had kind of a rocky start. No one likes being the new kid on the block as someone might say. It is hard at first for everyone and takes a while to get adjusted. For some, it takes longer than others.
"It was a hard year, and this year didn't get any easier, I just got used to being the oddball."
Gingras has overcome so many challenges throughout the past two years with only minimal dance experience. "The impulsive decision of trying out actually led me somewhere. I had no dance background so that in itself was a challenge keeping up with my teammates who were dancing since they could walk."
In the previous year, alumni, Luke Bongevingo and newcomer Emmanuel were both new additions to the team. This year, for Gingras's final year, he is marching in the band, as well as performing with the Candy Cane's Dance line. This makes Gingras the only male Candy Cane this year. You may think he has earned the spotlight, but sometimes being in the spotlight isn't as glorious as you think.
"It's tough sometimes. People sneak looks, voice their objections, and make me feel like what I am doing is wrong. It's intimidating being the shiny boy in a group of girls, eyes are always directed at me."
Gingras decided to put all that aside and focus on what he wanted to do. He wanted to dance and that's just what he was going to do. "Sure, there have been times where I almost quit. I'm honestly surprised I didn't with how terrible I felt at times, but I'm glad I didn't quit."
"When I dance, it's just me and the music, there is no one watching me with hateful eyes or hoping I mess up," states Gingras. For him, dancing is a true gift. "Dancing is my outlet for all my pent-up energy and love for performing." He has also grown a love for being a New Castle Candy Cane and is truly one of the best anyone has ever seen. "I love being a candy cane, but there is no way my younger self could handle the pressure put on me by others and myself."
Everyone has something that keeps them going and dancing is just that for Emmanuel Gingras. As the writer of this article, in my opinion, he is a perfect fit for the team. You can truly tell by the way he performs that dancing is something he was meant to do. Blocking out all the negativity and focusing on the positive is the best advice someone like Gingras can give to anyone. He has truly set a great example for the whole student body of New Castle High School.
We want to send a huge thank you to Emmanuel for opening up and taking the time to share his passion with the Eye Of The Hurricane Staff. Have a wonderful Senior Year Emmanuel!