Holiday Events Around Our City!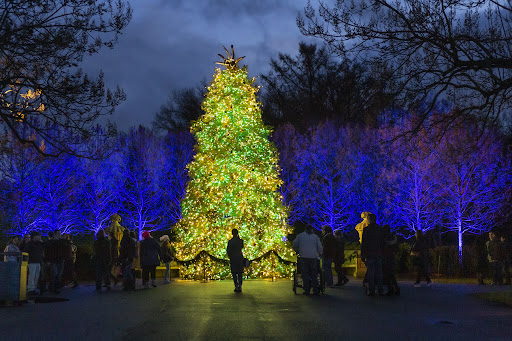 It's that time of year again and although small, the town of New Castle has many opportunities to go out into the community and enjoy the festivities this season! These events range from the beautiful displays of lights that the city provides to see the youth of our city performing on stage.
Here is a list of some of the activities during the Holiday times:
The Cascade of Lights: The city's 20th annual Cascade of Lights is being brought back to life after closing because of budget concerns the previous year. It is located at Cascade Park in New Castle and is open to the public this weekend on Friday, December 10th from 6:00 – 9:00 pm. The cost is $5 dollars a car and free pictures with Santa can also be taken on December 18th and 23rd.
Pearson Park's Parade of Lights: This newer drive-through display of lights has been open for the past few years. It is free to enter and is open now. It will remain open until Monday, December 27th. It is open from 6:00 pm – 9:00 pm nightly. This is another great opportunity to see lights around our city.
New Castle Playhouse: After a long covid hiatus, live theater is back! The New Castle Playhouse is performing the holiday classic, Elf, the musical.  The show runs for two weeks in December.  Please see the New Castle Playhouse website for ticket information. 
The Westminster College Planetarium: The theatre was originally created by Westminster to present educational and entertaining shows about astronomy and the sky, but for this year there will be a variety of festive Christmas songs that will be visually enhanced with theatrical animation and scenery using their entire dome screen. They will be playing musicians such as Frank Sinatra and finish their show with a performance from the Trans Siberian Orchestra! It is a fun event that everyone can enjoy! Buy your tickets now! Enjoy! 
Westminster College also hosts the Ten Tenors: Will be home for the holidays on December 11th. The group sings multiple Christmas songs like "Joy to the World," "Feliz Navidad," "Winter Wonderland," and many more Christmas classics. 
The Holiday Market at the Cascade Galleria: The Hometown holiday market will be open December 10-12 at the Cascade Galleria, otherwise known as the Towne Mall located in New Castle. It will be 4:00 – 9:00 pm on December 10th, and on the weekend they are open from 1:00 pm – 8:00 pm! The repurposed spaces in the Towne Mall will be filled with food vendors, local craft businesses, and holiday music! This is a great opportunity to go out and support local businesses, while also getting Christmas presents for family members in the process. The Lawrence County Humane Society will also be at the event if anyone is looking to adopt a pet this Christmas. There will be many other events for children and even an appearance from Santa.
The Big Butler Fairgrounds: The fairgrounds are located in Prospect, PA, in Butler county, and hosts a phenomenal light show during this time of the year. They present a massive drive-through light show that is definitely a highlight for all to see. The "Christmas Wonderland" is open nightly from 6:00 pm – 10:00 pm, remaining open until January 2, 2022. There are nearly two miles of lights displayed, all coordinated to synchronize music that can be listened to from your own car! Tickets can be purchased online on their website. 
 Christmas Movies: One can further enjoy themselves at the Holiday Film Series at the historic Warner Theater in Downtown New Castle. All movies are free and run from December 8 through December 23rd. Check their website for exact showtimes.
Get out and enjoy the holiday festivities Canes! The festivities are right here in your town. Let us know your favorite holiday festivity this year! Have a happy holiday!