The New Popeye's in New Castle!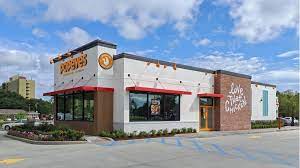 Popeyes is a well know restaurant around the world and we the people in New Castle are blessed to have one of the newest locations near us! You must check it out Canes!! Let us know how it is!
Location:
Address: 2608 W State St, New Castle, PA 16101
Hours: 
Monday through Sunday 11:30am-11:00pm
Hot Items to Get: 
Seafood dishes
The Famous "Tik Tok" Chicken Sandwich
Chicken Nuggets
Chicken Tenders
A variety of Coca Cola Drinks, Sprite, Dr. Pepper, Fanta Drinks, Different types of Lemonades, and Sweet Teas
Desserts- Apple Pies, Chocolate Chip Cookies, Wildberry Beignets
There are many more items you can choose from at Popeyes! Thanks for reading Canes! Let us know if you try the food!