Senior Spotlight: Dante Micaletti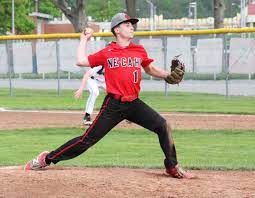 Dante Micaletti is a senior at New Castle Senior High.  As many may know,  Dante was a 4-year starter on the baseball team.  Dante played a huge role in the Canes WPIAL and PIAA championship run in 2021.  Last week, the senior second baseman/pitcher signed his National Letter of Intent to go play baseball for the Baldwin Wallace Yellow Jackets. The yellow jackets compete in division 3, as they are a top 10 team in the country.  I was able to sit down with Dante and ask him a couple of questions about high school and his thoughts moving forward.
Q: What are you going to miss most about New Castle?
A: I am going to miss the bonds I had with classmates.
Q: How would you describe your 4 years here at New Castle?
A: Awesome.  The best time of my life.
Q: What made you decide on Baldwin Wallace?
A: I loved their coaches and I felt at home there.
Q: What do you look forward to most at Baldwin Wallace?
A: I look forward to making new friends.
Q: What advice would you give young kids wanting to play a sport at the next level?
A:  I would tell them to work as hard as they can.
Q: What do you think the biggest difference is going to be between playing baseball in high school vs playing baseball at Baldwin Wallace?
A: I think we will play more and will have to prepare for more games per week, rather than only two for high school.
I would like to thank Dante for sitting down and spending his time with me.  We love him here at New Castle and wish him the best of luck moving forward.  Forever a Red Hurricane!