Our Goodbye to Mrs. Ingrid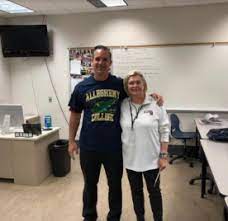 Our beloved Mrs. Ingrid is retiring. After 44 years of hard work and dedication, we wanted to thank her for all she's done.  I decided to ask her a few questions about her retirement plans.  I hope you enjoy the interview- Josh
Q: What are your retirement plans?
A: Retirement plans are for travel and working with the Marion G Resch Foundation.  And since my husband put in a vegetable garden, I think there will be lots of weeding in my future.
Q: What are you going to miss most about New Castle?
A: What will I miss most about New Castle?   Easy, the people! What a dedicated group of professionals(and I mean everyone from the  cafeteria workers, aides, custodians, and administrative assistants, to the Faculty, staff, and Administrators.) I get to work with. Lucky me! And of course, the students!💝
Q: How long have you been at New Castle?
A: This is my 13th year at New Castle High School.  I am/was the first full-time Higher Education Specialist from Penn State for the Talent Search program.
Q: What is one hobby you enjoy now that you will be able to do a lot more during retirement?
A: My bookshelves at home are in great need of being dusted off! Too many partially read books await being finished!   But I can hardly wait to get started!
Q: Who are you going to miss most?
A: Who will I miss? Too many to name but Mrs.Gibson is more than a colleague she has become such a good friend.  It is hard to talk (or type) about it.
Q: Do you plan to travel during retirement?
A: Yes, we will travel! There are adult children in 5 different states and lots of historical sites in between!  Plus, it has been too long since I have seen my friends in England.  
Q: Who is going to take over for you?
A: Who will take over the responsibilities of the job remains unknown. the job has not yet been posted on the PSU website but I do know someone will be in the job when you all return to school next year. The grant which funds this position is good for 4 more years and PSU will certainly apply to have the grant renewed.
Q: Are you sad you are leaving us (because I am)?
A: Joshua, thank you for sharing your sentiment.  Leaving is hard to talk about sometimes because my eyes leak: and there is a bittersweet feeling of not only ending a job but a 44-year career! Yet, I am excited about what awaits.
Q: What is one moment you will never forget?
A: One moment? are you kidding?   Every day there is a moment or two or three to remember!  I am counting on those moments to keep me company as I move into retirement.
Q: What is one thing you will miss about NC?
A: How lucky am I to have had the chance to learn about and work with the New Castle schools? I think we all have worked well together.  It has been a privilege and a pleasure.  Thanks so much for asking.
We wish Mrs. Ingrid the best in her retirement.  
Thanks for all you did here at New Castle Mrs. Ingrid!! Enjoy your retirement!