Top 5 Summer Reads!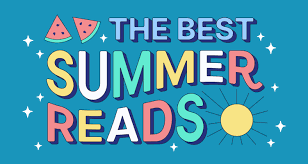 Summer is almost here for the Canes and what is better than to add something to your routine this summer. Why should you read? It is scientifically proven that 77% of children that read over the summer will improve in the upcoming school year. So here are some books to read to get you out of your reading slump.
People We Meet on Vacation

by Emily Henry –

People We Meet on Vacation is a collection of in-joke travel memories. It's equal parts hilarious and shockingly tender. Poppy and Alex are complete opposites. But miraculously, they're also best friends, and ever since college, they've taken an annual summer vacation together.
Heartstopper Series

by Alice Oseman – A graphic novel about life, love, and everything that happens in between – for fans of The Art of Being Normal, Holly Bourne, and Love, Simon. Charlie and Nick are at the same school, but they've never met … until one day when they're made to sit together.
A Little Life

by Hanya Yanagihara – A Little Life depicts the everyday experience of living with trauma, chronic pain, and disability, demonstrating the inherent intersections with one another. As a direct result of Dr. Traylor running him over with a car, Jude's spinal injuries have long-term health effects that trouble him for the rest of his life.
We Were Liars

by E. Lockhart – The novel We Were Liars by E. Lockhart is a shocking and twisted tale about the seemingly perfect Sinclair family who hides their secrets, lies, and flaws behind their tall and handsome builds. The story takes place on a private island off the coast of Massachusetts, where the Sinclair family spends their summers.
Panenka

by Ronan Hession – Panenka has spent 25 years living with the disastrous mistakes of his past, which have made him an exile in his hometown and cost him his dearest relationships. Now aged 50, Panenka begins to rebuild an improvised family life with his estranged daughter and her seven-year-old son
Let us know Canes if you enjoy these books and let us know what your favorite book is!