Top Ten Haunted Houses in Western PA!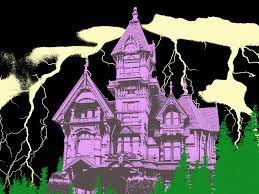 Hey Canes! These are the most recommended haunted houses in this area! Let us know what you think!
Personal Recommendation- Ghost Lake 
Ghost Lake is in Conneaut Lake Park in Crawford County, it includes an epic 13 levels and takes around 2 hours to complete. Ranging from a meat market of cannibals to a clown horror house chock full of tetanus, to even a haunted asylum from 1886 haunted by the patients and the church folks who took care of them. It does have places to get food, and you will often see some residents wandering the area, but be careful not to get too close, we don't want any missing appendages. The actors will touch your shoulders and ankles, but nowhere on your torso. It sits at 3.7 stars.
10. Hill View Manor
Hill View is in New Castle and uses strobe lights, jump scares, and general disorientation to scare you. It is an indoor-outdoor haunt. It does not have any food or drink and in fact, recommends that you do not bring any to the Manor. During the evening and day, you can do a tour, and they offer public and private investigations of the former nursing/poor home. It sits at 4.4 stars.
9. Pennhurst Asylum
Pennhurst Asylum, located in Spring City, a former hospital complex, has a full haunted house with actors and props. It has food and drinks on-site, with strobe and fog machines. When actors don't haunt it, you can do a ghost tour during the day. It sits at a 4.4-star rating.
8. Eerie Acres Farm
Eerie Acres Farm is based in Butler County and is an indoor-outdoor haunt attraction, with an outdoor garden to stop and grab a bite to eat at! It sits at 4.5 stars, making it number 8 on our list
7. Lonesome Valley Farms Valley of Terror
The Lonesome Valley Farm has two attractions this year, the Haunted Hayride with Maze Trail and the 'Slotter' farmhouse and barn. Concessions are available there and outside food is not permitted. Children 12 and under must be accompanied by an adult. It is rated 4.5 stars.
6. Zombies Of The Corn
Zombies Of The Corn is based in Freedom PA and includes six attractions, from Funhouse3D to a zombie-themed maze, and even an area to stop and get something to eat and watch a movie. This haunted house settles at a 4.6-star rating.
5. Kim's Krypt Haunted Mill
Kims Kyrpt features 5 attractions, from a haunted trail to a maze in the dark, and even a zombie-themed escape room. You can even take a ride in a hearse while sitting in a coffin! The actors will not touch you, and there is food available at the location. The Kyrpt sits at 4.6 stars.
4. Hellstead Manor 4.6
The Hellstead Manor is located in Hallstead, PA, and is home to the vicious Cannabillies, or cannibal hillbillies. There is also their fan-favorite Wretched Woods, which has been expanded this year. They have food and drinks on-site, in the form of 2 Dogz and a Guy, and various other refreshments. The Hellstead Manor sits at 4.6 stars.
3. Reapers Revenge
Reapers Revenge is in Blakely, PA, and has a total of 5 attractions, They range from a haunted hayride to a lost carnival, to a clown-filled alternate reality, a lightbulb factory that was shut down after an accident but the people lost in the accident never left, and a bio-nuclear attack where you try to outrun mutants. Reapers Revenge does include a waiver to sign, but it is simply for in case of COVID19 or conditions that you entered the attraction with. The actors are trained and allowed to touch you, so be forewarned. There is food at the location and the whole experience, from hayride to bio-nuclear attack takes about 90 minutes. Reapers Revenge places in 3rd with 4.7 stars.
2. FearScapes Haunted Attraction 4.8 
The theme for FearScapes this year, located in Ellwood City, is 'An Experiment in Fear' where a research base's experiments have gone wrong, and resulted in the entities they created, by combining the occult with science, being free to wreak havoc on the facility. There is also an escape room on site, where you have to escape a critical containment breach within 60 minutes. FearScapes is also having a Halloween Convention on October 22, where they will have vendors, food trucks, and live entertainment. We have our second-place haunted house, sitting at a pretty 4.8-star rating.
1. Terror Farm 4.9
Terror Farm is at the top of our list, located in Newport, PA, and is a location with state-of-the-art special effects, with old school Halloween charm. The actors are allowed to touch you, but you are not allowed to touch them. If you are afraid of being chased, you can get 'Monster Protection' via a glowstick, you will still get startled, but not chased down. Terror Farm sits at the top of our list at 4.9 stars.
Let us know if you get to any of these haunted spots! Happy haunting season!