Top Ten Best Halloween Costumes!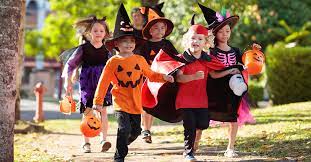 Halloween is right around the corner canes! What will you dress as? Take a look at the top 10 best Halloween costumes! Thanks for reading!
10. Harley Quinn
Harley Quinn is a costume you always see when you're out and about on Halloween, it's always an amazing-looking costume and is usually paired with her 'Puddin' Joker.
9. Cowboy
You'll always see a bunch of cowboy costumes, but Woody from Toy Story is the most common. Often seen on babies and small children, it's an adorable costume.
8. Cheerleader
It's one of the most customizable costumes out there! From letters A-Z, there's always something you can do to change up a cheerleader's uniform to make it spooky.
7. Rabbit
Bunny costumes from Rodger Rabbit to the White Rabbit, are adorable no matter what! Slap a pair of bunny ears on any costume and you have a brand new combo, from a zombie rabbit to Bugs Bunny, rabbit costumes are incredibly versatile for both kids and adults.
6. Pirate
An old costume, but always a good one. You will always find kids wanting to play pirate no matter where you go, and what better day to do it on than all Hallows Eve!
5. Fairy
A beautiful costume for anybody to wear, the glittery wings and sweet tutu (or leggings for the guys!) are always an attraction for anybody. Cast a spell and make your Halloween a good one!
4. Stranger Things
An explosion of popularity in about March to July brought some attention back to our favorite supernatural town of Hawkins. Dress up like Eleven with her flannel shirt and patchwork jacket or like Eddie Munson with his black leather jacket and band-patch-covered vest! There is a variety of characters in Stranger things and there's always something for someone.
3. Dinosaur
Jurassic World Dominion brought some serious love back into the Jurassic Park series. Dress up like your favorite dino and give a big roar!
2. Spider-man
After all the great Spider-man movies we've had in the past year, popularity for our webbed slinger has increased greatly! Dress up as your favorite version of Spidey and get swinging!
1. Witch
A classic costume for everyone, be it a witch from Harry Potter or a spooky witch with a green face. This type of sorceress can hold anything from a staff to a stick. Remember to grab your pointy hat and your broom!
Thanks for reading Canes! Tell us your favorite costume or what you dressed up as this Halloween!