NCAA Football Week 9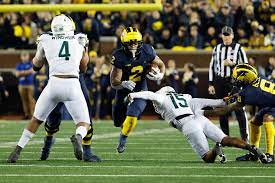 A lot of teams coming back from their bye week in Week 9. Virginia Tech played against (21) NC State. With 6 minutes left in the 4th quarter, Virginia Tech was losing but had to punt. NC State would just run the ball and NC State won 21-22. NC State's quarterback MJ Morris threw for 265 yards and three touchdowns. He rushed for 12 yards. Running back Jordan Houston rushed for 31 yards. Virginia Tech's quarterback Grant Wells threw for 243 yards and one touchdown. He rushed for 17 yards and two touchdowns. Running back Malachi Thomas rushed for 21 yards.
(20) Wake Forest played Louisville on Saturday. Going into this game Wake Forest was the team that was more likely to win. Louisville proved that wrong by beating Wake Forest 21-48. Louisville's quarterback Malik Cunningham threw for 164 yards. He rushed for 38 yards and two touchdowns. Braden Smith threw a 28-yard touchdown. Running back Tiyon Evans rushed for 106 yards and one touchdown. Wake Forest's quarterback Sam Hartman threw for 271 yards and one touchdown. He threw three interceptions in the loss. Will Towns, Christian Turner, and Justice Ellison rushed for 124 yards combined and Ellison rushed for one touchdown. 
Michigan State played (4) Michigan Saturday night. Michigan won 7-29. Michigan's quarterback JJ McCarthy threw for 167 yards and one touchdown. He rushed for 50 yards. Running back Blake Corum rushed for 177 yards and one touchdown. Jake Moody kicked 5 field goals for 15 points. His longest field goal was 54 yards. Michigan State's quarterback Payton Thorne threw for 215 yards and one touchdown. He threw one interception to Rod Moore. Running back Elijah Collins rushed for 22 yards.    
These are all of the other Week 9 scores:
(12) Utah 21 vs Washington State 17
Notre Dame 41 vs (22) Syracuse 24
(2) Ohio State 44 vs (16) Penn State 31
(7) TCU 41 vs West Virginia 31
(18) Oklahoma State 0 vs (13) Kansas State 48
Cincinnati 21 vs (25) UCF 25
(8) Oregon 42 vs California 24
Florida 20 vs (1) Georgia 42
(14) Illinois 26 vs Nebraska 9
Kentucky 6 vs (2) Tennessee 44
(9) USC 45 vs Arizona 37
(11) Mississippi 31 vs Texas A&M 28
Pittsburgh 24 vs (17) UNC 42
Stanford 13 vs (10) UCLA 38