Meet Mr. VanEman: New Assistant Principal at New Castle!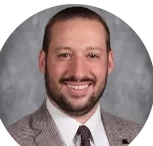 Mr. VanEman is one of the new assistant principal's here at New Castle Sr. High. I had the pleasure of sitting down with him for an interview. Check it out!
Q: What made you become an Assistant Principal?
I wanted to become a principal because I enjoy working with students. I graduated from Neshannock and I have a lot of family around here. This school has a lot of good opportunities for the students and that made me want to work here.
Q: Why did you pick New Castle?
I am origianlly from here. This school district has a lot of history, tradition, and excellence.
Q: Do you have prior experience being an Assistant Principal?
Not an assistant principal, but I have experience as a prior administrator in another district.
Q: What college did you go to and get a degree in?
I went to Slippery Rock for my teaching degree and I went to Duquesne for my administrative degree.
Q: What was your favorite subject in high school and did you do anything extracurricular?
My favorite subject was probably social studies. I always loved history. Yes, I was on the basketball team, soccer team, baseball team, and track team.
Q: What are your goals for the rest of the school year?
I want to get to know all the students. I want to get to know how this school works.
Q: What are a few of your favorite hobbies?
I play guitar and I've played in bands. I like to fly fish. I also like to hang out and spend time with my family.
Q: What would you be doing if you weren't an Assistant Principal, or dream job?
I've always wanted to become a professional basketball player, that would have been cool, playing in the NBA
Q: What are a few of your favorite TV shows or movies?
My wife and I like watching documentaries.
Q: What was your very first job?
My first job was cutting grass
Q: What is your official start date as an Assistant Principal?
My official start date was in February. I am excited to be here.
A huge thank you to Mr. VanEman for taking the time to interview and we hope you have a great rest of the year. Thanks again for reading Canes!