Books to Read Over the Summer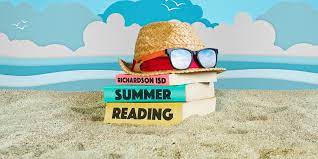 After a long summer day, it is great to unwind and relax with a good book! Not only is reading a calming hobby to pick up but a great way to keep your mind sharp over the summer.
The highly recommended Happy Place by Emily Henry is about a group of friends that grew up vacationing at a house in Maine. When the house goes up for sale, the friends decide to soak up one last week of fun.
Another great book to read over the summer is The Waves by Virginia Woolf. The Waves is about the lives of six friends all intertwined with one another. The book documents the adolescent years of childhood through late adult life and what friendship looks like in each phase of life.
Voted Book Riot's best book of 2021, The People We Keep by Allison Larkin is an amazing summer read. It details the life of young April Sawicki who is searching for a better life. She stops in Ithaca where she finds a local coffee shop that she falls in love with. The more she falls in love with living in Ithica, she fears she will hurt her friends the same way she has been hurt. She then realizes where she came from does not dictate where she is going as she chronicles her life in songs she writes.
Relax and enjoy these great books over the summer! Thanks for reading Canes!