Best Summer Activities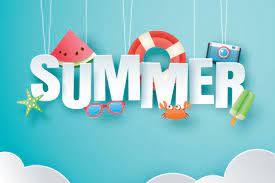 Summer has officially begun and there are many ways to enjoy it! The weather is beautiful and there is plenty of opportunity to take advantage of that.
Swimming is a great way to spend the summer. It not only is a great way to stay cool under the hot sun but the perfect time to spend some quality time with friends and family.
Another great summer activity is going to baseball games. The Pirates are having a great season so far and the Pirate's games are super fun to go to. Pittsburgh is an incredible city with lots of exciting activities going on that you are able to enjoy before and after the game.
Walking outside is a great way to enjoy the summer as well! At Pearson Park, they have a mile-long walking trail that is great for all ages. The trail is super nice and the perfect way to get exercise while also enjoying the beautiful summer weather.
Heading to an amusement park during the day is a great activity to do during the summer. The two closest options to New Castle are Kennywood and Cedar Point. Both parks are beautiful with amazing rides suitable for all ages to enjoy!
Get out and enjoy the amazing activities there are during summer!