Legends Lost: XXXTentacion (Spring Edition Preview)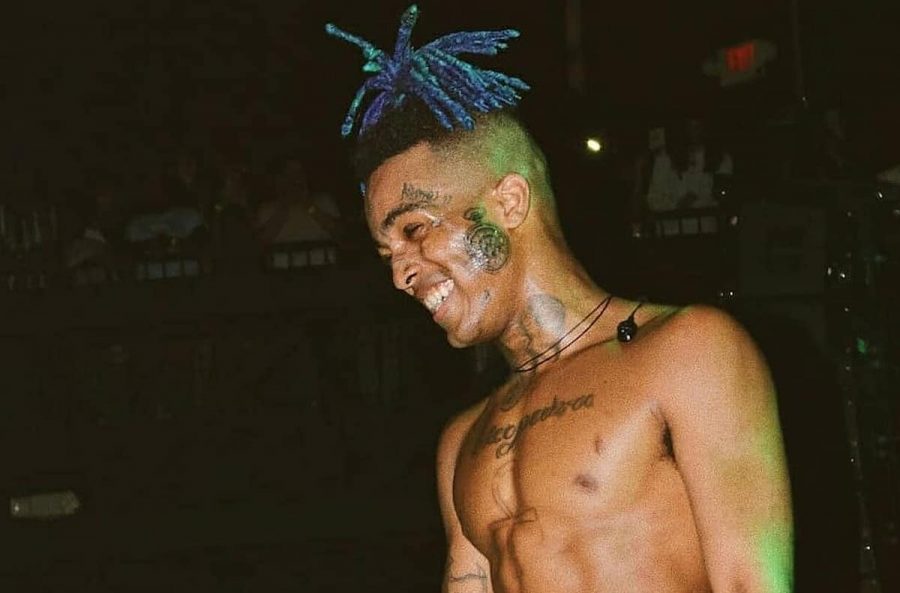 Thomas Martino, Entertainment Writer
March 1, 2019
Jahseh Onfroy better known as XXXTentacion was born January 23, 1998 in Plantation, Florida. Onfroy grew up with three siblings. paternally. Onfroy was raised mainly by his grandmother Collette Jones. Onfroy attended Piper High School until he dropped out in the tenth grade. He described himself as a "misfit" during that time, citing how quiet he was despite being popular and regularly involved in physical confrontations. Onfroy was not the athletic type and said that he was insecure and depressed during his time in high school.
Onfroy's career as a music artist began in June 2013 after the release of his song "News/Flock". While in juvenile detention for gun possession charges, Onfroy met Stokeley Clevon Goulbourne, Also known as Ski Mask the Slump God. During their time together, Onfroy and Goulbourne became good friends and began freestyling. Recalling his time in detention, Onfroy said that he was respectful to the officers and staff and used to protect people from other inmates.
That same year, following his release from a juvenile detention center, Onfroy and Goulbourne met up again under the belief they were going to commit a string of home invasions, though Onfroy eventually bought a Blue Snowball microphone and began recording music, which convinced Stokeley to do the same. After Onfroy adopted the moniker XXXTentacion, he uploaded his first official song, called "Vice City", on SoundCloud. Speaking on his decision to abandon a life of crime for music, Onfroy said that he felt like music was a better outlet for his feelings and then-girlfriend Geneva Ayala was someone who helped him realize that. He would then continue uploading small snippets of his songs that he would either soon release or keep unreleased. Onfroy eventually joined Ski Mask the Slump God's group Very Rare, before breaking off and starting the Members Only collective, which Ski Mask then also joined. The word "tentación" in his stage name is the Spanish word for "temptation".
In 2017 "Look at Me" gained traction, peaked at number 34 on US Billboard Hot 100 and the top 40 of the Canadian Hot 100. The single helped him gain more popularity due to accusations of Canadian rapper Drake using a similar rap flow in his song "KMT". During his jail stint, Onfroy signed a deal to be managed by Soloman Sobande (who would remain his manager until his death) and despite Onfroy being in jail during "Look at Me"'s initial breakthrough, major-label scouts began offering six-figure contracts and Onfroy eventually signed for Empire Distribution for lower royalty rate, full creative control and a smaller upfront payment. After his release from prison on April 18, 2017, he released three more songs on SoundCloud. In an interview with WMIB, Onfroy announced that he was working on the studio albums Bad Vibes and 17; as well as a mixtape, I Need Jesus. In an interview three days after his release from prison, Onfroy said to XXL, "I got this really, really, really good album called 17. That's more of an alternative, R&B sound—then I've got this mixtape called I Need Jesus, which is mainly rap and the underground sound I did."
On August 17, 2018, iLoveMakonnen announced a collaboration between Lil Peep and Onfroy titled "Falling Down". A reworking of "Sunlight on Your Skin" made by Makonnen and Peep, the new version features verses by Onfroy that he recorded after Peep's death to pay tribute to Peep.The single was officially released on September 19, 2018. On September 27, 2018, Kanye West announced Onfroy will be a featured artist on his ninth studio album, Yandhi. The same day, it was reported that Onfroy will also be a featured artist on Lil Wayne's twelfth album, Tha Carter V, which was released the next day. Onfroy was featured on the song, "Don't Cry".
On November 11, 2018 XXXTentacions first posthumous single "BAD!" was released. BAD! served as the first and only single off his album "Skins". Skins released December 7, 2018. Skins consisted of 10 songs and is only 19 minutes long. The only feature on this album is Kanye West on the song "One Minute".