Bohemian Rhapsody Film Recap
Hang on for a minute...we're trying to find some more stories you might like.
Bohemian Rhapsody debuted November 2nd, 2018 and is the top grossing biopic of all time. The movie star, Rami Malek, portrays Freddie Mercury. This movie depicts the successes and troubles of Freddie Mercury throughout his life.
*WARNING: THIS ARTICLE CONTAINS SPOILERS OF THE FILM*
The movie begins at, technically, the end of the film. Freddie is getting ready to perform at Live Aid 1985 with the song "Somebody to Love" playing in the background while he gets ready for the big show. The scene leaves off with Freddie about to go on stage with his friends while overlooking a crowd of 75,000+ people. The movie now goes back to the year of 1970, located in London.
The beginning of the film starts off in an airport where you see young Freddie performing his former job as a baggage handler, taking baggage off a plane. Meanwhile, when he has free time, you can see Freddie writing lyrics in a small notebook. When he returns home from his job, he greets his mom and dad. He says a few words to his parents and leaves to go out to the pub where the band Smile will be performing.
The next scene of the movie is where Freddie meets the love of his life, Mary Austin. He is walking down the hallway and runs into Mary talking to her friend. He finds her attractive and tells her she has a nice coat. He goes outside and runs into drummer Roger Taylor and guitarist Brian May. Freddie says he enjoyed the show, and Brian May says the lead singer of Smile had just quit on them. Freddie says he can sing but neither of them believes him. He sings a verse he made up and they are very surprised. Freddie then becomes the lead singer for the band Smile.
In the next scene of the movie, Freddie goes into a department store and runs into an employee of the store who happens to be Mary Austin. Freddie is shopping for clothes and asks her if they have a different size in a particular shirt. Mary says he is in the woman's department. Freddie says he knows that and does not care. Mary takes him into the dressing room to try on the shirt she found and she thinks it looks good on him. She then puts makeup on him and he loves it.
The next scene in the movie shows Freddie performing for the first time with Smile. He is nervous at first, but Roger goes, "Ready Freddie?" and Freddie goes, "Yeah, let's do it." He sings "Keep Yourself Alive" and the pub loves him. From there, Freddie changed his name and his Dad is visibly upset that he changed his legal name. Freddie then gets a call from EMI Studios saying they want to manage Queen.
The next scene of the movie shows Freddie along with the rest of Queen meeting an EMI official for the first time. He asks what makes Queen so special. Freddie says they are misfits who don't belong who play for other misfits. The EMI official loves their enthusiasm and signs them on the spot.
From there, Queen goes onto a tour of North America and sells out every show. While on tour, Freddie starts to realize he is becoming bisexual and changes moods towards his then fiance Mary Austin. She decides to break up with Freddie, and he then decides to cut off his hair and become gay. Then, Freddie buys a big new house and throws large parties every night. This is when Freddie turns for the worse.
The next scene of the movie shows Freddie getting a solo album deal from CBS records for 4 million dollars. The rest of Queen gets very upset when Freddie informs them of his deal. The band officially splits for two years. The following scenes show Freddie working on his solo album and struggling more day by day. His boyfriend, Paul Prenter, gets calls from Queen's manager asking him to tell Freddie about a big concert, Live Aid. Live Aid is a concert for the hungry people of Africa, but Paul never tells Freddie about Live Aid. Because Paul refuses to inform Freddie about Live Aid, Mary Austin goes to their house to tell Freddie herself. Freddie is mad at Paul for purposefully keeping this from him and breaks up with him.
The last scene of the movie is sad. Freddie finds out that he has AIDS, an incurable disease at the time. Freddie eventually gets back together with the band and tells them of the diagnosis. The whole band cries at hearing the news, but Freddie says not to bore him with sympathy. From there, Freddie, along with the rest of Queen, goes on to perform the greatest rock concert of all time in front of  85,000 plus people at Wembley Stadium.
About the Contributors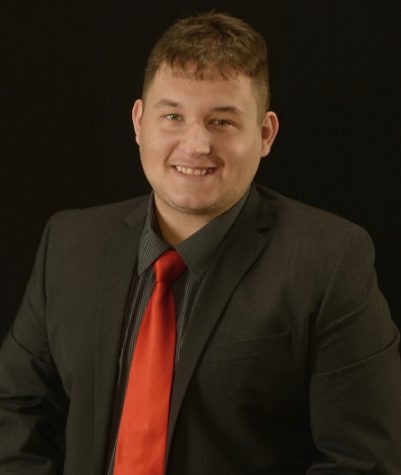 Sam Cwynar, Senior Editor of Operations

Sam Cwynar is a Senior Editor of Entertainment. Sam has been an important part of the Eye of the Hurricane over the past four years. Sam's film reviews...