Holidays in Ukraine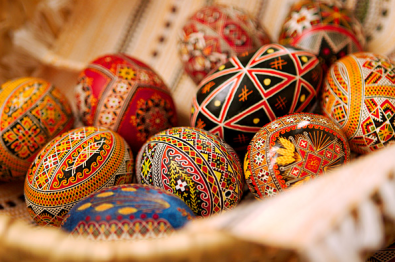 Hang on for a minute...we're trying to find some more stories you might like.
There are many national holidays in Ukraine observed officially by its citizens.
New Year's Eve, St. Nicolas Day, and Christmas are always celebrated in Ukraine in winter. New Year's Day is greatly loved by adults and children. We usually buy New Year trees, decorate our houses, and write postcards to our relatives and friends.
New Year's is a great holiday in our country. Everybody likes it very much and it is especially loved by little children. People do not go to work on that day, and children do not go to school. This holiday is considered to be a family holiday. It is usually celebrated at home among the members of the family.
People decorate their houses and usually have a fir-tree, which stands in the corner of the room. Those fir-trees are very beautiful. The presents are usually put under these trees and our parents prepare for this holiday well. They buy a New Year tree, decorate it, and buy a lot of tasty food and drinks.
At twelve o'clock in the night, people can see the president on TV who addresses them with traditional words of congratulation. At this time people are sitting at the tables to their holiday dinner, enjoying the good company. Young people usually organize a dance party and have a lot of fun. Some of them go out into the streets and the squares. The next day, friends usually come to wish a Happy New Year to all the members of the family.  The New Year of our life has begun; everyone hopes it will really be happy and prosperous New Year.
December 19 is the Day of St. Nicholas the Wonderworker. The first thing religious people do this day, of course, is going to the temples. This must be done on the eve of the holiday, that is, on the evening of December 18. St. Nicholas Day is a holiday in which it is necessary to engage in good, God-pleasing affairs to help people in need. There is a good tradition to give small gifts and distribute treats on St. Nicholas Day. Therefore, on the night of December 19th, you can put a surprise or a present under your pillow for your loved ones. This custom is especially relevant in families with small children.
Christmas is the holiday when all members of the family gather together. This is the holiday of joy. Comparatively to the USA and many other countries, Ukrainians don't exchange presents on this holiday. For many years, only religious people observed this holiday, but today it's an official state holiday. Children like to have fun on this holiday by going from door to door to sing carols, and in return, people give sweets to them. «Kutya» is a traditional Ukrainian Christmas dish. It's cooked by mothers and godchildren take it to their godparents. Although this holiday appeared long ago nowadays many people still like to go church and listen to Christmas sermons.  Nowadays, a lot of people don't celebrate this holiday and don't call it Christmas at all. They just use these days off as an opportunity to meet their relatives and have family dinner.