Rocco Bernadina and His Extraordinary Piano Playing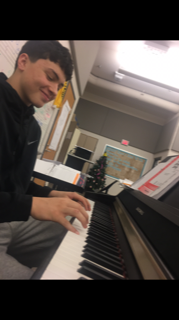 Roccco Bernadina is  a two varsity athlete and a phenomenal piano player, as well as, a successful academic student.  Rocco was born in New Castle Pennsylvania.  He is sixteen years old and currently attends New Castle High School. Rocco is on both the varsity baseball and basketball only as a sophomore, which is so impressive to be doing . Rocco is also in all honors classes and currently has a G.P.A of 4.3.  Rocco also has a thriving social life meeting new friends from everywhere doing travels in baseball.
Rocco's musical talents extend to his wonderful wide variety of  musical genres. Some of his favorite groups include : The Beatles, Bee Gees, Queen, Chicago, Earth Wind and Fire, and Manhattans just to name a few. In addition, he enjoys current artists like Drake. Music runs through the Bernadina family-his late uncle and grandpa had a great interest in the musical arts . His uncle devoted his life  to performing , and for his grandfather aside from serving our country also played along with his uncle Ralph.  Some may say he was born with the talent but actually Rocco was self taught  for the most part-only taking piano classes to learn the basics .  Today, Rocco has progressed incredibly from those lessons that he took when he was nine. Rocco has been playing for seven years and some of his favorites to play are: "Too Late to Apologize" by Timbaland  and the moving song " Same Love" by Macklemore . I even had the opportunity to listen first hand to Rocco.  Without a doubt, he has a tremendous talent that could launch a future in music. Only time will tell what Rocco's future has in store.  For this is one certainty:  no matter which path he follows he will be a success.