Seven Questions about Coach Shaftic's Philosophy of Life in Regards to his Respective Sport
Hang on for a minute...we're trying to find some more stories you might like.
Coach Shaftic has taught History in the New Castle Area School District for eighteen years.  In addition, he has been head coach of the cross country team for ten years. In his ten years he has acquired a Runner Up At WPIALS and 3 back to back Section Championships. -Daniel Minenok
Question:  How do you teach life lessons through cross country?
Coach: As a coach and teacher it is important to remember that our students and athletes listen when we speak and if we have fostered the proper culture, they respect and try to incorporate what we say..  It's important to teach the right lessons. We tell our athletes to work hard, stay focused, be disciplined, value their team and community, conduct themselves honorably, stay within the rules, and be good leaders. Preaching these ideas is important, modeling them is vital. Kids listen to most of what we say but they see one hundred percent of our actions. As a coach we MUST try and model what we preach.  If you set standards, uphold them. If you make a commitment, keep it. If you want your athletes to value your program, create a program that you value. When you fall short of a goal, exhibit sportsmanship. As coaches we all want to win. We put in countless hours before, during, and after our season in order to do so. But, winning is secondary when compared to modeling the values I outlined above. Winning without helping our kids learn those values and see them in actions is not winning at all.
Question: What are the most important character building qualities to teach your runners?
Coach: Competing in sports is a great way to learn important lessons about life.  Every day, every meet, and every season presents opportunities for young athletes to learn habits and develop skills that will carry them into adulthood.  Each year the kids talk about personal and team goals. Running certain times, winning the section, winning particular Invitationals, winning WPIAL, and making the state meet.  Some goals are reached, some are not. Setting goals offers opportunity to learn valuable lessons about life. If goals are reached, it teaches the value of hard work. Falling short teaches resilience.  Our varsity boys team is just now getting ready to compete in the state meet. Only 18 other teams across the state can say the same thing. Both the boys and the girls started working toward this goal in early June.  They conditioned the entire summer 5 days a week. Many of them piled up over 400 miles of running by the time the season began in September. That alone requires extreme commitment to a goal. It requires discipline. The girls worked as hard as the boys, but failed to reach this goal.  They were upset, and disappointed. But, they were also extremely excited for the boys because they have learned what it means to be a member of a TEAM. Great teammates encourage success, they create a culture of inclusion, they compete with their teammates and not against them. They learn to communicate with one another to overcome differences. I could write on but I am guessing most of you will not continue reading. So I will leave it at that.
Question: If the runners on your team, were your own children, what would you want them to get out of this experience:
Coach: I want my athletes to experience a great team culture.  I want them to feel like they belong to something special, something of which they can be proud, a family.  Feeling like you are part of something in the school setting brings ownership of your school and community.  It brings a sense of pride for those things. That is what I want for my children and my athletes. That feeling of being part of something great.  Putting on a New Castle singlet is an honor. Something worth working and fighting to uphold. Tradition.
Question:  How can you motivate your athletes?
Coach: Motivating players is a tough one.  I believe the answers to the previous questions take care of that.  If your athletes believe they are part of something bigger than themselves, that they are competing for their team and team accomplishments it brings a sense of urgency to their training and a willingness to sacrifice more of themselves during meets.
Question:   How can you improve teamwork and the attitude of each athlete?
Coach: Again, this goes back to team culture and shared ownership of the program.  Kids cultivate and grow things they care about. We sometimes have personality conflicts among our team.  This is inevitable when dealing with large groups of people. I think our sense of family helps us overcome those issues.  Kids do not want to upset or destroy what they believe in. The team must be bigger than any individual if your looking to foster a good team culture.  It also helps to have leadership from our veteran athletes. They have to teach the young kids what is expected of them and how to act in our family. This is crucial to help our team present the right attitudes.  
Question:  Who are some of your mentors that you looked up to?
Coach: Everyone has people in their lives that have made an impact on them and helped shape who they are.  I am no different in that regard. I have been shaped by many people that took the time to teach my through their actions and words.  When I was a high school kid, I had a job working for the park and recreations department here in New Castle. My supervisor was Bob Natale Sr.  He taught me how to work. He taught me to take pride in whatever you did. I remember many times driving through the city parks after finishing some task and him stopping the truck in the middle of the park and just sitting there.  I would look over at him in the driver's seat to see why we stopped. He would just look back at me. The first time, I asked why we stopped. He said the piece of paper of empty cup or whatever it was he spotted in the park was not going to throw itself away. There is a great lesson in that.  He could have ignored those small pieces of trash. He always stopped. He always made sure he did the little things. That is what successful people do. They take care of the little things, the details. They take pride in doing what they are supposed to do. That had an impact on me to this day. The other individual I will mention is Coach Bob Morris from West Middlesex.  He is a retired XC and track coach. When I first started coaching at New Castle I did not have any experience as a coach.  I was a runner but not experienced at all with Cross Country. I needed to learn my craft and I needed someone to help me do it.  When you want to learn to do something well, get advice from someone that is successful at it. I purposely took my team to compete at West Middlesex any chance I could get.  I wanted to see what they did that helped them compete and win. We got our butts kicked for the first 5 or 6 years we went there. But, we learned. We continued to improve as a program and my friendship with Coach Morris continued to grow.  He helped shape my coaching philosophy by teaching me the little things about team building and training that I did not know. Coach Morris retired but I still speak to him every week. And I am proud to say that now, we hand out a lot of butt kickings to other teams because of what he helped me learn along the way.
Question:  What is your best advice for young people today?
Coach: My best advice for young people today is to work hard.  Figure out what you want and work everyday to go get it.  Set goals and go achieve them. Things are not handed to you just because you want them.  You earn them by consistently doing what is necessary to accomplish your goals. Take care of the little things and the big things will take care of themselves.
About the Writer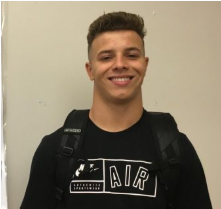 Daniel Minenok, Senior Editor
Daniel has had an important part of the Eye of the Hurricane staff for the past four years.