Legends Lost: Mean Gene Okerlund-Spring Preview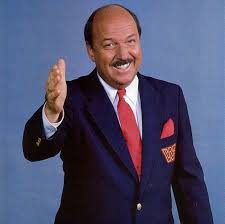 Hang on for a minute...we're trying to find some more stories you might like.
Eugene Arthur Okerlund  a.k.a.  Mean Gene Okerlund, the Voice of the WWF sadly passed  away this  January at age seventy-six.  Mean Gene Okerlund was a the voice and major interviewer for the WWF for well over thirty five years.  During his career he was able to interview some of WWF´s all time greats. Some of his notable interviews were with Hulk Hogan, Andre the Giant, Macho Man, Goldberg, Ultimate Warrior, and many more.  According to his peers, Okerlund was a very bright, intelligent, and funny man to be around. Okerlund was inducted into the WWF Hall of Fame in April 2006 by Hulk Hogan.