SAFE2SAY SOMETHING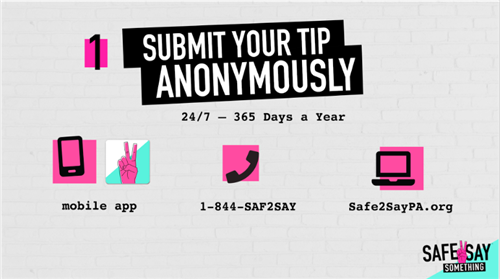 Dom Bongivengo, Content Associate
January 24, 2019
Hang on for a minute...we're trying to find some more stories you might like.
WHAT IS THE PROBLEM?
Each year in schools millions of youth who hurt themselves or others through verbal,physical, and digital means. These behaviors can cause youth to experience emotional trauma and physical injury, mental health or wellness issues, stress or anxiety, and or feelings of being unsafe. Too often the outcome results in self harm suicide or homicide.
WHAT IS THE SOLUTION?
The Safe2Say Something Anonymous System teaches youth and adults how to recognize warning signs and signals especially within social media of individuals who may be a threat to themselves or others and say something BEFORE it is too late
Safe2Say Something provides an app, website and 24/7 crisis telephone hotline for youth and adults to submit anonymous tips
Provides training on how to recognize the signs and signals of at risk behaviors especially within social media.
Works to take every sign and signal seriously; act quickly to get help by talking to a trusted adult
HOW IT WORKS
Call the tipline
1-844-SAF2SAY
Use the Website
www.safe2saypa.org
Use the mobile App available  for Apple and Android devices