10 Questions for Demetris McKnight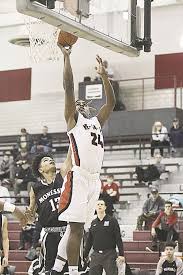 Nolan Henry, Sports Editor
May 17, 2019
Earlier I had the chance to interview student-athlete Demetris McKnight. Demetris is a junior and plays varsity basketball, football, and also runs track. He played a big role on our varsity basketball team who once again won the AAAA WPIAL championship. I hope you enjoy his interview- Nolan
1. Did you play basketball before this year?

This was my first year playing varsity but yes.
2. When did you start playing basketball?

I was about 10 or 11 years old.
3. What position do you play?

I play center right now.
4. What's your roll on our basketball team?

Rebounding and finishing
5. Would you like to play in college?

No, I'd like to play football in college.
6. Is basketball your main sport?

No, my main sport is football.
7. What's your favorite basketball shoe?

Jordan's, I feel that I play best in them.
8. Favorite player?

Kobe Bryant
9. Favorite number to wear?

24
10. If you had to compare your game to someone currently in the NBA who would it be?

Lebron James