Canes Defeat Warren 1-0 Playoff Baseball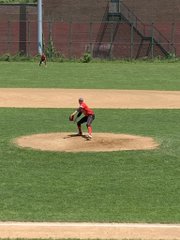 The New Castle Red Hurricanes defeated Warren 1-0 on June 3rd, in Erie to advance in the state baseball playoffs. Sophomore Rocco Bernadina finished with a complete game shutout and has 12 strikeouts. Nic Morell scored the teams lone run, scoring on a fielder's choice error on senior Matt Senchak's at-bat.



About the Contributor
Brady Cwynar, Head of Sophomore Writers
Brady Cwynar is a Sophomore Writer for the Eye of the Hurricane and has been active 2017-2020. He writes different genres such as advice, current events,...