Interview with New Castle Senior High Exchange Student Luca Friedrichs
The Eye of the Hurricane had the pleasure to interview Luca Friedrichs, our new foreign exchange student from Germany. 
How did you decide to come to the U.S.?
I was thinking that I wanted to see the world. I wanted to travel, because my family and I travel a lot.
How long have you been in the U.S.?
Almost six months.
What do you like the most about the area?
The fact that everything it's so different, the food, the people, school. I like school here way better because we just don't study we also have other activities to be involved in.
How long are you going to stay in New Castle?
I'm going to stay here until June 12th.
Tell me about your hometown . If I came to visit you, where in your hometown would you take me?
It's a huge city so I would take you to the shops and restaurants.
What do you miss the most about your country?
I miss my people, my friends, my family, but I also miss my city because it's very different. You can walk places very easily like you don't have to have a car. Stores are very close together, and I also miss the food.
What is one difference between education in Germany and education in America?
In Germany, we have a class with 20 people and we stay in the same classroom all day, the teachers rotate from classroom to classroom. We just study and learn w don't talk that much. We have 2 breaks there about 10 minutes each. We don't have lunch and we school till 1:00. We don't have arts or sports activities. If you want to do sports you have to do it after school. They can kick you out if you're not good enough in school.
What other facets of this experience have been challenging?
The most challenging thing was the language. I couldn't understand anything on my first week in the U.S.
What is one part of American culture that your excited to experience?
To see what people do in their modern lives here in the U.S.
What is your favorite subject in school?
I really like history because I have Mrs. Beck and I really like her.
What do you do in your spare time?
I do softball and musical. During the weekends I love to go shopping and going on trips with my host family.
About the Contributors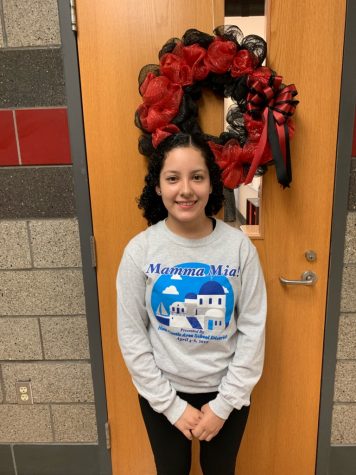 Maria Vasquez, Senior Editor
Maria Vasquez is a Senior Editor of Feature Stories. This is her first year in the Eye of the Hurricane. She's a member of the National Honor Society &...