Train Derailment in East Palestine, Ohio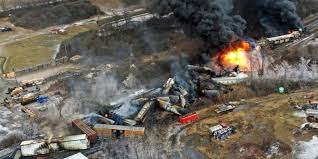 On February 3rd, at 8:55 P.M. a 150-car-long train containing hazardous materials was derailed in East Palestine, Ohio. It shot plumes of smoke into the air that contained hazardous materials. People within a 1 by 2-mile radius had to evacuate due to the chance of the train blowing up. The chemicals released into the air from the smoke were causing major problems for residents nearby. Some of those problems were trouble breathing and skin irritation.
Norfolk Southern's train was transporting hazardous chemicals that included:
Vinyl Chloride

Butyl Acrylate
Ethylene Glycol Monobutyl Ether
Ethylhexyl Acrylate
Isobutylene
All of these are considered toxic and can be dangerous to the environment, to humans, and to animals. When the derailment happened some of the cars holding these chemicals were broken open. At least 15,000 pounds of soil and 1 million gallons of water were contaminated and removed.
The materials have seeped into the soil and water killing fish and ruining crops in the immediate area. There were reports from a person who claimed that their 5 hens had died suddenly a day after the cleanup crew burned train cars carrying vinyl chloride. They were 10 miles away from where they burned the chemicals. There were dead fish in a 5-7 mile radius around the derailment. Norfolk Southern was forced to foot the bill of the clean-up for the wreckage. The 1,500 to 2,000 people who were evacuated were paid $1,000 each.
This cleanup is still ongoing. There is no time as of right now when the cleanup will be complete. People, animals, and the environment are still feeling the extreme effects of this horrible incident. If we have more news on this we will be sure to report it.
It seemed as if Government officials were going to be going to the site to help aid the people of East Palestine. We will see how this transpires as the recovery process is still in the works.
Thanks for reading Canes!