Ten Years and Counting, Call of Duty Zombies!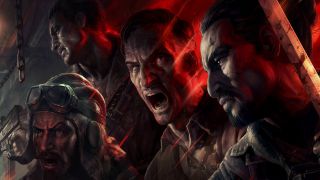 Hang on for a minute...we're trying to find some more stories you might like.
On October 12, 2018, Call of Duty continued their ten years and counting of their zombies game mode. Many people believe zombies is just for fun and nothing serious but little do they know that there is way more to it than playing for fun. There are actually many different character crews and story-lines between each character.
Back in 2008, Call of Duty: World at War was released and it was the first Call of Duty with the zombies game-mode. Many little hidden secrets were placed throughout the maps and many have yet to be found to this day. Call of Duty has remade many of these maps and have placed even more secrets throughout them. In 2010, Call of Duty remastered the original zombie maps with updated graphics and better playing ability. In early 2011 Call of Duty made a Zombies map and it was the first one with a main story-line quest. There were  many steps to be solved and it was all a mystery. The Call of Duty Zombies community had to come together to find and decode many steps to complete the quest. Later, Call of Duty released three more maps with more quests following the previous.
In 2012 they released the sequel to the previous Call of Duty and titled it "Black Ops 2". The new game featured three new zombies maps with a different crew of characters and no new quests on the maps. Later in January, they released another new DLC(downloadable content) map featuring the same characters but it had a quest. This was followed by the release of two more maps with that crew before returning to the old but upgraded crew. Moving forward with the new crew in the final map and onto the next game, there was still much more to come.
In 2015, the trilogy to the series came out and was titled ¨Black Ops 3¨. From start to finish it followed ¨Black Ops 2¨ from start to finish with 6 different maps throughout the year to continue this amazing story that so few know about. On the final map titled ¨Revelations¨, the four main characters battle the final shadow boss of zombies and with the ending cut-scene it appears everything was finally wrapped up and over and done with until in 2018, ¨Black Ops 4¨ released and an old fan-favorite map return with our original characters but this time with a different quest and ending, proving that there is yet more to come.