The Most Unpredictable Playoffs Ever (In a FLASH)!!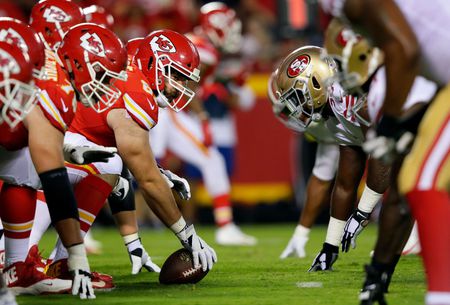 TWELVE Seeds in The NFL Playoffs-
The Six Seeds for the NFC were #1 49ers, #2 Packers, #3 Saints, #4 Eagles, #5 Seahawks, and  #6 Vikings. The Six Seeds for the AFC were #1 Ravens, #2 Chiefs, #3 Patriots, #4 Texans, #5 Bills, and #6 Titans. With The Ravens being the #1 Seed in the NFL everyone thought that they would win Superbowl 54. It was believed that the Titans would get knocked out of the Playoffs as they were the #6 seed in the AFC Playoff bracket. Everyone doubted the Titans, but little did they know the 6 seed Titans would beat the #3 Patriots in the wild card game to move on to face the #1 seed Ravens in the divisional game. The Texans moved on from the Bills and went on to play the Chiefs. In the NFC, the Seahawks moved past the Eagles to go on to play the Packers. The Vikings moved on from the Saints shockingly for the 3rd year in a row have lost to the Vikings. The Vikings would face the 49ers. There were a lot of upsets in this year's Playoffs. The Ravens got knocked out by Derrick Henry and the Titans. The Chiefs came back from a 24-0 victory over the Texans. The Packers knocked off the Seahawks. The Vikings got shut down by Richard Sherman and the 49ers. It all came down to the final round of the Playoffs, the NFC and AFC Championship.
The NFC Championship was the 49ers vs the Packers, and the AFC Championship was the Titans vs the Chiefs. 4 Teams left fighting for the trip going to Miami for Superbowl 54. The two teams that are going to Super Bowl 54 are the Kansas City Chiefs vs the San Francisco 49ers. Who is going to win?
Super Bowl Prediction:  I am going with the 49ers defeating the Chiefs by a field goal during last seconds of the game.